Lap dances on a plane: Woman filmed giving in-flight lap dance claims she's 'absolutely mortified'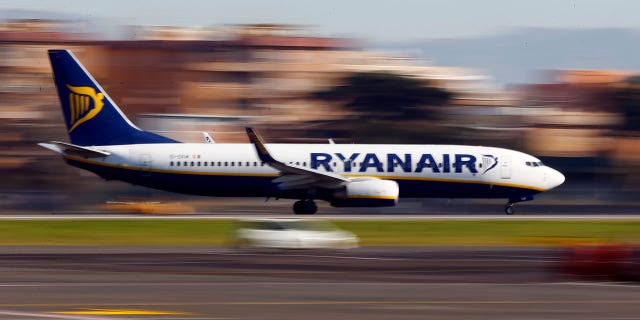 NEWYou can now listen to Fox News articles!
A female passenger aboard a Ryanair flight claims she's "mortified" after footage of her giving a lap dance to a fellow passenger went viral online.
Tracy Bolton, a 39-year-old mother of three, was flying from Manchester, England, to Ibiza, Spain, when she hopped on top of 31-year-old Shaun Edmondson — who himself has a pregnant fiancée at home — for an impromptu dance.
According to a friend of Bolton's who spoke with The Sun, Edmondson's friends were the ones that convinced Bolton to do the deed, as Edmondson was sad about leaving his wife at home for a bachelor party.
SUPER THIN AIRLINE SEATS TO MAKE FLYING EVEN WORSE, SAY CRITICS
"His mates egged her on to tease him because he didn't want to leave his girl," Kristy Lawton, a friend of Bolton's, told The Sun.
In footage of the incident, Bolton, who had reportedly been drinking at an airport bar before the flight, can be seen straddling Edmondson and gyrating on his lap as Edmondson grabs her by the hips.
According to reports, the man even asked his friends if they had any condoms.
"I heard them talking about it but I thought they were joking," a fellow passenger claimed. "The guy was shouting, 'Anyone got a jelly?'"
Sources for The Sun have further claimed that Bolton removed her pants at one point, and engaged in intercourse with Edmondson, but she has since refuted these accusations.
"I am absolutely mortified," Bolton reportedly wrote in a now-deleted Facebook post. "What started as a bit of drunken madness has gone worldwide.
"I am horrified but absolutely nothing happened," she insisted.
Bolton's family and friends have since come to her defense, with her father claiming that "people are getting the story mixed up," and Lawton reiterating that no actual sex took place.
"Nothing really happened," said Lawton. "She did a fully clothed lap dance for a laugh, no sexy time occurred."
FOLLOW US ON FACEBOOK FOR MORE FOX LIFESTYLE NEWS
"Tracy is one of the most straight-laced women I know," she also stated.
Edmondson, meanwhile, is reportedly in the doghouse with pregnant fiancée Jenna Ross over the incident.
The Sun has also obtained a statement from Ryanair, in which the airline claims to be "looking into" the incident.
"We will not tolerate unruly, disruptive or inappropriate behavior at any time and any passengers who appear to behave in an unacceptable manner may be liable for further sanctions."