JetBlue passenger biting people forces plane to make emergency landing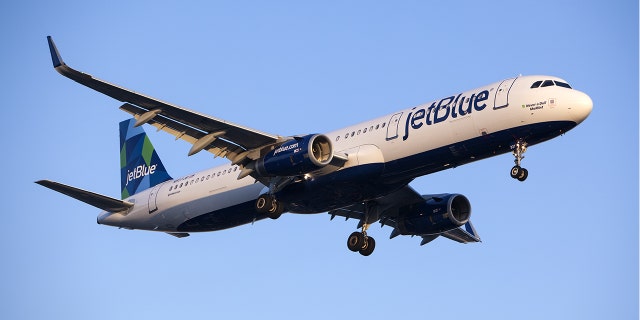 A JetBlue plane heading from Los Angeles to New York was forced to make an emergency landing in Las Vegas after a man began biting the other passengers.
While flying over Utah, the man suddenly started biting his seatmates, whom he reportedly knew, as well as hitting others, according to CBSLA.
JETBLUE BRINGING BACK $20 BOARD GAME THAT COMES WITH ROUND-TRIP FLIGHT
Doctors on board reportedly attempted to help restrain the man, but he began attacking them as well. Cell phone video of the incident shows another passenger helping hold down the distraught passenger.
"I grabbed his hands behind his back and held him there while the flight attendants put the restraints on him," the passenger, identified as Tom, told CBSLA.
"At that point, he started yelling and tried to come toward the flight attendant, behind me, at the time. I really had a hell of a time keeping him in place there."
The pilot was forced to land the plane at McCarran International Airport, where the man was met by police and taken into custody.
The flight resumed service to New York without further incident, a JetBlue spokesperson said in a statement.
FOLLOW US ON FACEBOOK FOR MORE FOX LIFESTYLE NEWS
Unruly passengers' outbursts seem to be turning incerasingly common. According to the International Air Transport Association (IATA), there was a 50 percent rise this year in the number of passengers forcibly restrained mid-flight for bad behavior, ranging from verbal abuse to life-threatening situations.