'Intoxicated' woman charged with assaulting JetBlue crew, touching passenger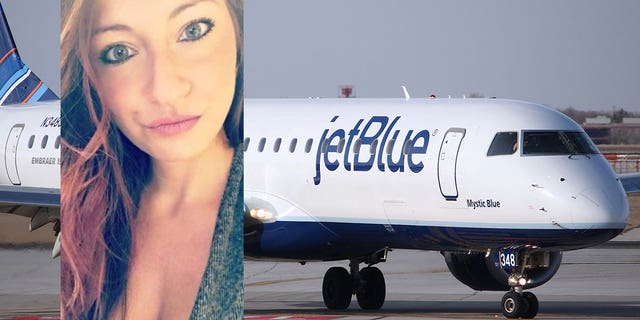 A female JetBlue passenger was charged with interfering with flight crew following a series of disorderly acts and drunken conduct aboard a flight in July.
Robin Ducore, a 30-year-old Cartier employee in New York, was flying from the Dominican Republic to New York City on July 29, 2017, when she allegedly drank four glasses of wine in a two-hour period, and then inappropriately touched a passenger and assaulted a flight attendant.
Ducore's erratic behavior forced the crew to divert the flight and make an emergency landing at Washington Dulles International Airport, according to a criminal complaint, Travel + Leisure reports.
'EXTREMELY DRUNK' EASYJET PASSENGER TRIED TO BITE POLICE AND 'URINATED ON HIMSELF'
According to court documents, an intoxicated Ducore began "to touch in a flirtatious manner the back of the head of the male passenger sitting next to her, an individual whom [the flight attendant] did not believe that Ducore knew."
The flight attendant intervened, asking Ducore to stop touching the man, who, the flight attendant said "appeared uncomfortable with this unsolicited touching."
When Ducore refused to stop, the flight attendant moved the male passenger to another seat, angering Ducore further. According to the documents, the move caused Ducore to become "upset" and she "began cursing and became verbally abusive [toward the flight attendant.]"
At one point, the flight attendant offered Ducore food and water to "become more sober," but she reportedly threw them across the plane.
AIRLINE BLAMES PASSENGER FOR EMERGENCY EXIT DOOR FALLING OFF PLANE
As her behavior worsened, Ducore was placed in flex cuffs, but later broke free and kicked the flight attendant in the leg.
Ducore's attorney Nina Ginsberg blames the airline for her client's actions, telling Travel + Leisure that Ducore was drunk before getting on the plane.
"The airline let her board the flight when she was visibly intoxicated and they served her," she said.
Though Ducore passed out 20 minutes before landing, the plane continued on its diverted route to Dulles airport.
FOLLOW US ON FACEBOOK FOR MORE FOX LIFESTYLE NEWS
If convicted, Ducore could face up to 20 years in prison.