How to make a hotel-style bed at home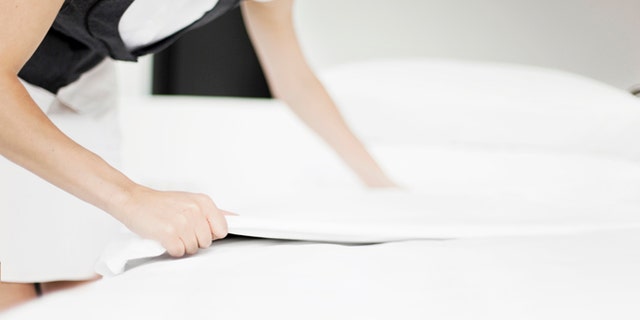 Fluffy sheets, oodles of pillows — if we could sleep in hotel beds all the time, we totally would.
So we did a little digging, and it turns out there are indeed tricks — even a few subconscious ones — that will morph your own bedroom into a haven of suite-level quality. Making your own hotel bed is easier than you think, with a few easy rules.
Make it white
Color scheme is of utmost importance. When Westin hotel designers trial tested their now-famous Heavenly Bed, they noticed a peculiar trend: "The all-white bed created this halo effect," says Erin Hoover, vice president of design for Westin and Sheraton. "People thought a room had been renovated, even if it was just the bed that had been changed. It had a huge impact." Hilton and Park Hyatt feature all-white beds in their rooms as well — stick to their colour scheme (or lack thereof) to connote ultimate luxury in your bedroom.
Go for a triple sheet
To design your own hotel bed, "start with very clean, white, high thread count sheets," says Sybil Pool, a spokeswoman for Park Hyatt. Three-hundred thread count seems to be the general rule — that's the standard at Park Hyatt Sydney, and Arizona's award-winning Miraval Resort uses 300 thread count as well. The Westin Heavenly Bed, likewise, gets its oomph from 300 thread count Egyptian cotton, along with a special twist: "There are three sheets," says Hoover. "That way, you're always touching a sheet. It's a really plush bed." Take Westin's cue, and make your bed with a flat sheet, a middle sheet and a fitted sheet for buttery soft sleep.
Overdo the pillows
Yes, you might only lay your head on one. But the Park Hyatt's Pool says to toss at least three pillows on your bed for an ultra-plush experience. At Westin, it's the freedom to choose from an array of pillows — but not too many — that gives off sumptuous vibes: Heavenly Beds feature two pillows with feather and down, two down-alternative pillows and a boudoir pillow. That way, "you can arrange pillows for your sleep preference," says Hoover. "But too much choice can be overwhelming. (Five pillows) is a good balance."
Consider a featherbed
The Miraval's bed — which guests have called "a bag of marshmallows" -- gets its softness from an ultra-fluffy featherbed atop the mattress. You'll also find them in Marriott, W and other hotels — but they needn't always be pricey. Even a discount featherbed can turn your mere mattress into a cloud. That being said ...
Invest in your mattress
Westin worked with manufacturer Simmons to design a custom mattress for the Heavenly Bed. Hoover says it's crucial to take equal care when shopping for your own mattress — and don't skimp. To create a hotel vibe at home, "make sure you invest in a good-quality product," she advises. "If it doesn't have the right support, you're not going to have the healthful rest you need." After all, swapping an old bed for a new, medium-firm one spurred "a significant decrease in stress" for subjects in a 2009 study.
Order DIY turndown service, sans blue light
Conducting your own turndown ritual — dim lights, slowly peel back sheets — will make bedtime feel like a treat, says Pool. Oh, and nix the blue light. Due to research that shows exposure to blue light throws off the body's circadian rhythm, Miraval hotel rooms have special LED light bulbs designed to reduce blue light exposure and help you drift into luxurious hotel la la land. Grab your own online.