Haunted house invites visitors to take the 'Naked and Scared Challenge'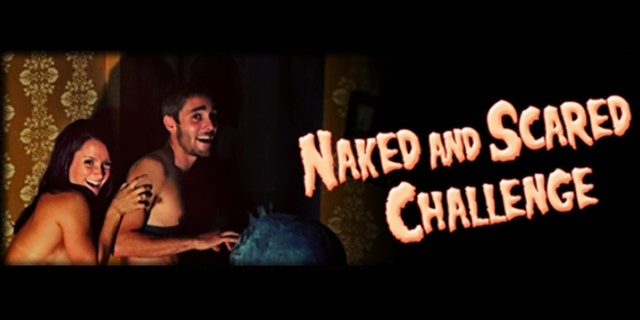 The phrase, "that scared my pants off," will take on a new meaning this Friday in Sinking Spring, Pennsylvania.
[pullquote]
An attraction at Pennsylvania's "premier haunted scream park," Shocktoberfest, will be offering nude tours of its haunted house.
Labeled the "Naked and Scared Challenge," the unique brand of Halloween experience asks visitors to strip down to nothing and enter one of their haunted houses completely nude.
According to Patrick Konopelski, president and owner of Shocktoberfest, the inspiration came from Discovery Channel's show "Naked and Afraid," in which two castaways must survive in the wild without any outer wear.
Konopelski came up with idea after watching an episode of the show at home with his four teenage children.
"I'm watching these two people running around naked in the woods and they were genuinely scared," Konopelski told FoxNews.com. "If you know you have no protection, you become very vulnerable and I thought 'Wow! That would be amazing in a haunted house.'"
Now Shocktoberfest will invite its guest to experience the same kind of fear. Participants will walk through the haunted house called "The Unknown," themed to a former industrial park filled with zombies.
The patrons are offered two options: nude or prude. They can go through the haunted house completely nude or wearing only their underwear.
For those who do decide to go with the Full Monty, they won't have to worry about many onlookers, as the Naked and Scared Challenge takes place at midnight after all other customers have left. The attraction will also only be offered to guests 18 years of age or older.
For guests afraid of being caught in the nude, a fully clothed option is available during normal business hours as well.
According to the Shocktoberfest website, the attraction will have plenty of security on staff during the naked hours to ensure there is no inappropriate behavior.
A disclaimer on the site reads:
Shocktoberfest has created this experience so their customers can explore a new level of fear. This is about fear and pushing oneself out of their comfort zone. This is not about sex. No sexual misconduct, inappropriate or disrespectful behavior will be tolerated.
*Please note there is an additional cleaning charge if we scare the p*ss out of you!
Konopelski admits that there has been some criticism of the new clothing-free addition to Shocktoberfest, citing some very heated debates that have occurred on the event's Facebook page.

"I have been involved in the haunted house business for 27 years," writes one user. "This is the worst idea I have ever heard of. I wonder if they have informed their city officials of this idea? If not, the first complaint to the mayor and this will be shut down."
"Its [sic] mostly going to be a bunch of fat old creepy men in there lol," writes another.
Konopelski says he did initially have trouble convincing everyone -- from city officials to his wife -- that the idea was a good one, but now he says the response has mostly been positive.
"A lot of people have preconceived notions about what it may become," Konopelski told FoxNews.com. "It's just consenting adults given the opportunity to be as vulnerable as possible in a haunted house…The beautiful part about living in America is that if you're a consenting adult and you want to experience something you should have the right to do it."
The Naked and Scared Challenge begins at midnight on Sept. 27, 2013. Tickets can be bought online for $20. The attraction will be closed on Sundays. Tickets and more information can be found at Shocktoberfest.com.