German aviation safety firm ranks the world's safest airlines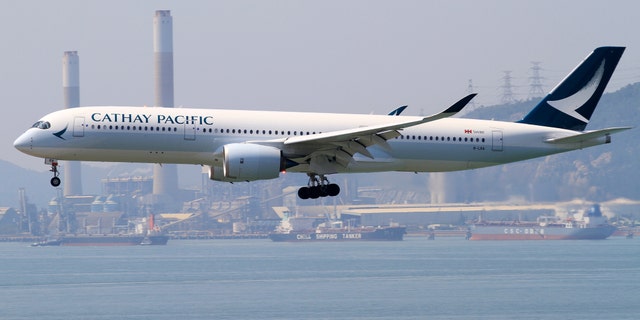 On Tuesday, German-based commercial aviation safety firm Jet Airliner Crash Data Evaluation Centre, (JACDEC) released its annual list of the world's safest airline carriers. Sixty international airlines were rated and for the second year in a row, no legacy U.S. carriers cracked the top 10.
Hong Kong's Cathay Pacific Airways, which often received top marks for service, bested the competition as JACDEC's safest airline followed by Air New Zealand and China's Hainan Airlines rounding out the top three.
BAGGAGE HANDLER TRAPPED IN PLANE'S CARGO HOLD ON DC-BOUND UNITED FLIGHT
The annual report provides insight for travelers on the current safety level for the world's biggest commercial airlines. In 2016, JACDEC recorded a total of 321 fatalities, 376 incidents, 219 serious incidents, and 37 hull losses among the carriers surveyed.
The full rankings will not be released until Jan. 18 but the firm did provide a preview of the bottom three: Indonesia's Garuda Airlines, Colombia's Avianca and China Airlines in the last spot.
Though airline tragedies make headlines, overall, JACDEC's Global Safety Review reports that from a statistical perspective, 2016 continued a long term trend of fewer fatalities as well as fewer incidents of hull loss accidents—when an aircraft is either destroyed or damaged beyond repair-- than previous decades.
FOR THE LATEST TRAVEL FEATURES FOLLOW FOX LIFESTYLE ON FACEBOOK
Last year, Jetblue Airways was ranked eleventh while Delta Air Lines came in at seventeen— making them the only two U.S. carriers to crack the top 20.
World's Safest Airlines 2017, according to JACDEC (based on airlines' 2016 record)
1. Cathay Pacific Airways
2. Air New Zealand
3. Hainan Airlines
4. Qatar Airways
5. K L M
6. EVA Air
7. Emirates
8. Etihad Airways
9. QANTAS
10. Japan Airlines
11. All Nippon Airways
12. Lufthansa