George Bush airport pays tribute to late president
George Bush Intercontinental Airport has paid tribute to the former President George H.W. Bush, who passed away on Nov. 30 at age 94, on social media.
"Our hearts are heavy this morning. Thoughts and prayers are with the Bush family, Houston and all of America," reps for the Texas air hub wrote on Twitter and Facebook early Saturday morning, sharing a photo of a statue of the late president inside the airport.
Shortly after, Houston Airport System Director Mario Diaz released a longer statement in honor of 41 that reads as follows:
PRESIDENT TRUMP'S PRIVATE PLANE CLIPPED BY AIRCRAFT AT LAGUARDIA AIRPORT
"After serving courageously in World War II and attending Yale University, [President George H.W. Bush] could have chosen any number of varied careers, each of them almost assuredly leading to a luxury filled workday and dramatic economic success. But the President chose instead a more difficult and winding path, one traveling past the oil fields of West Texas, through the halls of CIA headquarters in Virginia, over the Great Wall of China itself and eventually, ending at 1600 Pennsylvania Avenue in Washington, D.C," Diaz wrote on Facebook.
"I personally believe that this adventurous streak of his stemmed from an 'aviator's spirit.' After all, he was already a Naval Aviator three days prior to his 19th birthday, the youngest to accomplish the feat up to that time," he continued. "Seventy-two years later and George Herbert Walker Bush would still be celebrating his love for all things skyward, marking his 90th birthday with one final skydive."
"George Bush Intercontinental Airport was named for the 41st President of the United States for this very reason, because he had a full appreciation for the various ways in which the field of aviation could enrich the cultural lives of individuals and maximize the economic potential of entire nations," Diaz continued.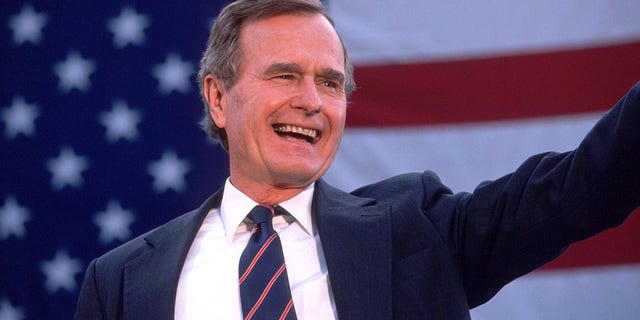 "During his inaugural address in 1989, President Bush said, 'We meet on democracy's front porch, a good place to talk as neighbors and as friends.' Mister President, your neighbors and friends would like to take a moment to thank you for an amazing conversation."
FOLLOW US ON FACEBOOK FOR MORE FOX LIFESTYLE NEWS
In April 1997, the Houston Intercontinental Airport was renamed George Bush Intercontinental Airport in honor of the leader, thanks to the efforts of the Houston city council, United Press International reported at the time.
Today, George Bush Intercontinental Airport is believed to be the tenth busiest airport in the nation, TripSavvy reports, with major carriers United Airlines, Alaska Airlines, American Airlines, and Delta Air Lines servicing the hub every day.
Born in 1924, the 41st president was known for his gentlemanly demeanor, dedication to traditional American values, willingness to take on foreign despots like Iraq's Hussein and Panama's Manuel Noriega, and presiding over the breakup of the Soviet Union.
He is survived by five children, including former President George W. Bush and former Florida Gov. Jeb Bush. A sixth child died in early childhood. The late former president also is survived by 17 grandchildren.
The Associated Press contributed to this report.