Florida Holiday Inn wakes up sleepy spring breakers with 'Lion King' song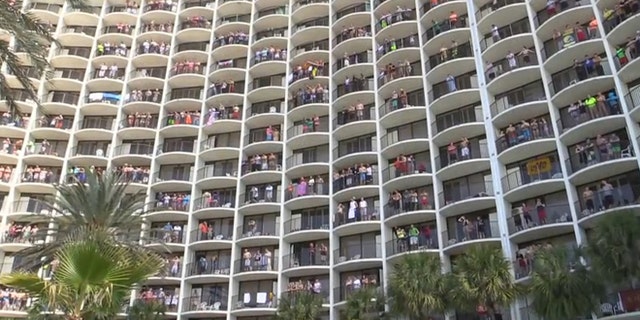 NEWYou can now listen to Fox News articles!
Every year spring breakers flock to Panama City Beach for surf, sand, and rowdy nightlife. But the local Holiday Inn is becoming a hot spot for an unusual traditional that gets tired guests out of bed every morning.
Every year, from 2012, the resort has blasted "The Circle of Life" theme from "The Lion King" every morning. The tradition continues and when the song plays promptly at 11 a.m., dozens of sleepy guests rise from their beds and gather on their balconies to cheer—eager to begin another day of partying on the beach.
"It's the best thing ever. Every morning when we wake up we look forward to it it's like an entire Panama City Beach Holiday Inn family just singing together," Holiday Inn guest Jessica Young told WJHG.
Young isn't the only guest who looks forward to the throwback song as an alarm clock. Hotel employees say that they have "hundreds of people" calling in each year before making to make sure the song will be played during their stay.
"We actually had kids that after the first couple days they showed up and they had stuffed Lion King dolls doing the whole pose at the top of the mountain with Simba," Philip Corvin, the Holiday Inn's director of marketing, told WJHG. He sites the fact that the "The Lion King" was an incredibly popular movie when many of his hotel patrons were young, so the song evokes a bit of nostalgia—and compared to many popular songs played at nightclubs, the theme is family friendly.
"It was a song that worked real well as a wake up call because of the loud beat in it and it also works real well because of the message of the song. It fits with the kids and the mood and what they're going through right now," Corvin said.
Philip Corvin is the director of marketing at the Holiday Inn, and he says he never dreamed it would become so popular.
Check out spring breakers waking up to "The Circle of Life."