'Flintstones' theme park up for sale for a rock bottom $2 million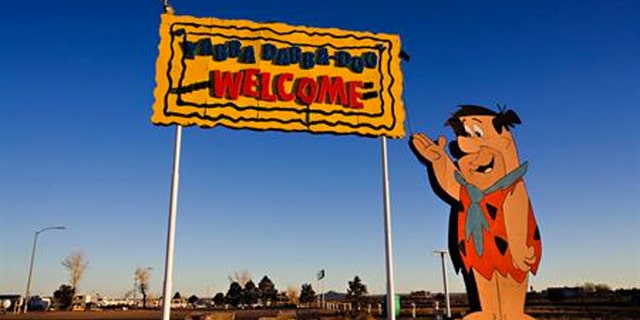 NEWYou can now listen to Fox News articles!
Ever wanted to live like Fred and Wilma? BAM (BAM), now you can.
Bedrock City, a Stone Age theme park inspired by the animated TV show "Flintstones," is on the market for just $2 million and has everything a modern cave dweller could ask for.
In addition to several fake rock-style huts, future owners will inherit a camp ground, volcano train, a themed diner, brontosaurus slide and convenience store with statues of cartoon characters nestled around the property.
Located in Williams, Arizona, Bedrock City is just a 30-minute drive from one of America's most famous rocky formations—the Grand Canyon.
For the right owner, the purchase could be a tourism gold mine as the property brochure boasts that over five million visitors pass by the busy highway junction each year.
The $2 million price tag might seem like a steal but the property was originally built in 1972 and has since fallen into disrepair, meaning substantial renovations would be needed. Also not included in the rock bottom price? The licensing agreement with Hanna-Barbera, the animation studio behind the original sitcom that aired from 1960 to 1966, is not transferable to the new owner and would have to be renegotiated before anyone can say Yabba Dabba Do.
At one point in the 1970s, there were at least six different theme parks inspired by The Flintstones in North America.
Last year, YouTube darlings Grace Helbig and Mamrie Hart explored Bedrock City and seemed to have fun goofing around.