Experience Europe on wheels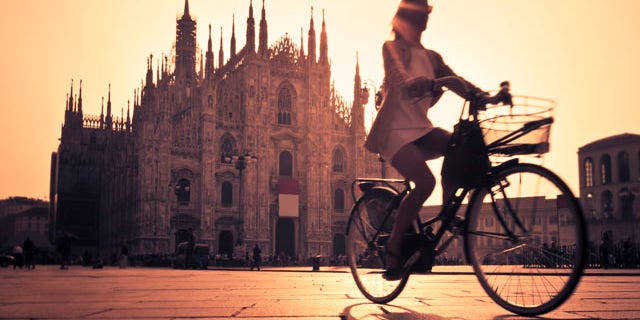 Don't just see the fields of flowers in Holland or the vineyards in Italy - smell them and maybe even touch them while spinning along on two wheels. Cycling trips throughout Europe are growing in popularity as more and more Americans are becoming interested in the sport.
While it may be pretty straight forward to book a trip to see the Eiffel Tower in Paris or the Vatican in Rome, it takes a little more planning to organize a cycling vacation.
Tour operator and travel expert Dan Austin of Austin/Lehman Adventures gives Fox News Traveler some tips for booking a cycling vacation where you'll see not only the sights, but the countryside as well - in an entirely new way.
Bike basics
Austin says tourists need to first determine whether they are an avid or casual cyclist, how often they cycle and what they're looking for in the trip. With its mild terrain, Austin says Holland is a great destination for beginner and intermediate cyclists. Of course, Tuscany is the dream of many avid cyclists, but Austin warns you'll need to be ready for the hills.
Whether to 'do-it-yourself' or sign up with a tour operator
Depending on the experience you're looking for, there are different ways to book and experience a cycling trip. "There's a lot of do it yourself programs out there where they'll rent you a bike and give you a map and point you in the right direction," Austin said.
Austin says another option would be to go with a tour operator like his company. "If you go with a tour operator, you're going to get lots of options," Austin said. "You're going to get a 30-mile option, a 40-mile option and for the adventurous a 50-mile option."
Packing for spinning
Especially for cycling vacations, don't over pack. "The nice thing is there are a lot of new fabrics out there that rinse out easily," Austin said. "There will be plenty of opportunities along the way to do a little laundry or have someone do it for you." Austin says if all else fails, it's fun to buy a local jersey – a souvineer you can actually use later.
Juiced bikes
Even if you don't have time to train, you could still take a cycling trip almost anywhere. Electric bikes can make up the difference. "That's really leveled the playing field," Austin said. "It's also helped if someone wants to go to hilly Tuscany – but they're not quite cut out for it. We can provide them with an electric bike and it flattens all of the hills out. From a general appearance, it appears like you're pedaling and working hard like everybody else - you're just zooming by them."