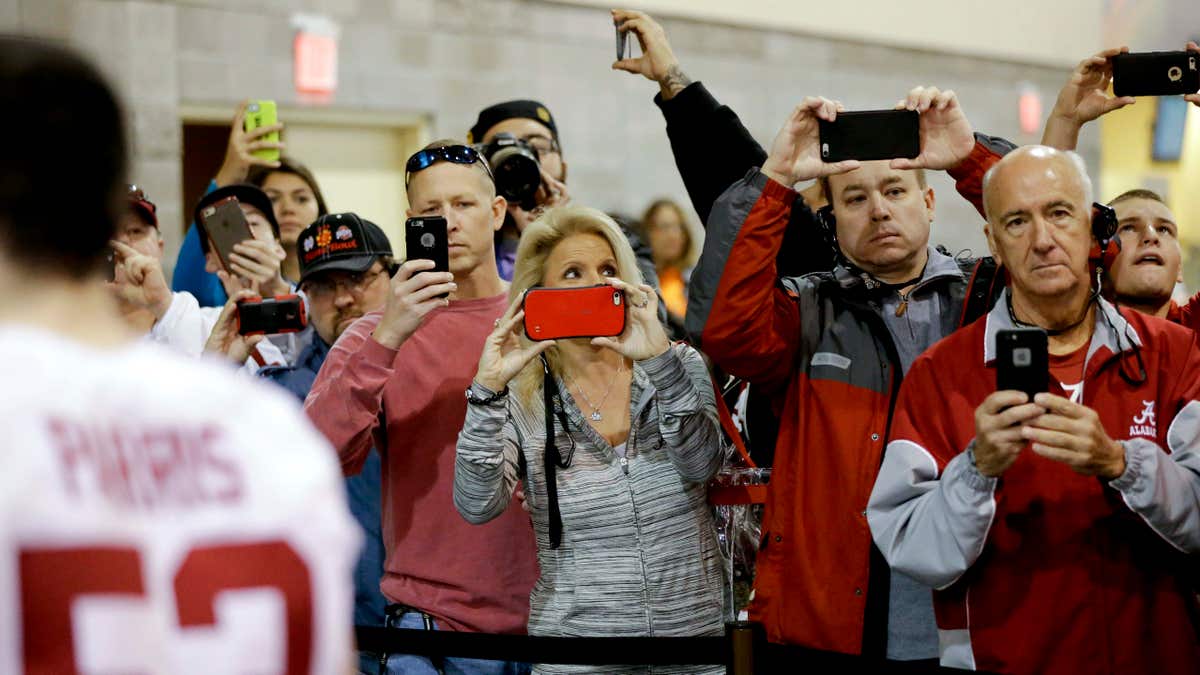 The average secondary-market price for tickets to college football's national championship is the lowest in years and well below the New Year's Eve College Football Playoff semifinals.
Fans may not have any money left — or just stayed home instead.
Airfares from cities across most of the South to the Valley of the Sun have skyrocketed since Clemson and Alabama made it into Monday's title game, forcing fans to decide whether seeing their favorite team in person is worth the often exorbitant cost.
"They're gouging people," Clemson fan Deborah Nelson said Saturday as she watched the Tigers at media day. "It's sad that they would do this."
Fans who booked right after the semifinals could find a few decent fares, but those quickly dried up.
As of Saturday afternoon, the cheapest flight from Greenville-Spartanburg International Airport to Phoenix — leaving Sunday, returning Tuesday — was nearly $1,300. Getting from Birmingham, Alabama, to Sky Harbor Airport started at $1,400.
Timing had something to do with it.
Airlines charge higher prices to travelers who book tickets less than 21 days in advance and even more for those within a week of travel. The thinking is that people who book flights that close really need to go and they — or more often their company — are going to pay the premium.
Alabama and Clemson fans didn't know their teams were headed to Phoenix until after the New Year's Eve games, so they either had to buy early and hope their team made it to the title game or wait and pay the higher fare.
The airports near the two college towns also are relatively small, so the majority of flights are on regional jets with seating capacities between 50 and 75 that connect to the airlines' major hubs before going on to the final destination. Flights from those airports filled up quickly, too, driving prices up even more.
"Airlines know these games are enormously popular with the teams' supporters, so they limit the number of inexpensive fares and do everything possible to extract the highest possible airfare the market will bear," travel industry consultant Henry Harteveldt said. "Even if airlines add extra flights, substitute larger aircraft, or both, airline revenue managers will do everything they can to command the highest possible airfares. It's business."
The business of selling tickets on the secondary market is not doing well for this game.
The average resale ticket price for the title game is $674.81, far below the $1,124.44 average per ticket for the inaugural national championship game last year, according to ticket aggregator TiqIQ. Tickets for the two playoff games this year, at the Orange and Cotton bowls, had an average per-ticket price of $1,410.35.
As of Saturday afternoon, the cheapest ticket listed on StubHub.com was $210. Clemson fans have flocked to the desert to see their team play for its first title since 1981, with tickets on the Tigers' sideline starting at $600.
Alabama fans, who have seen their team in the title game four of the past seven seasons, have been less enthusiastic about buying tickets to this year's game, with tickets around $300 on the Crimson Tide's sideline.
"They may just be spoiled," said Eric Gruber, a ticket broker in Sacramento, California. "They've been there so many times already and no one has unlimited resources. They don't want to go bankrupt just to see their team play."
Those who did make the investment still had to get there and it wasn't always easy.
Katie Noel, a Clemson fan from South Carolina, had to fly from Columbia to Charlotte, then to Chicago before arriving in Phoenix. Her return has four stops and the entire trip cost $1,300.
Alabama fan Beth Barstow didn't want to pay the high fare to fly out of Birmingham and couldn't get a flight out of Atlanta, so she drove four hours to Memphis and stayed with friend Chris Askins before flying out to Phoenix the next morning.
"They almost make it impossible for the average fan to go to these events," Barstow said. "The ticket's expensive enough and you can find decent accommodations, but the airfare is outrageous."