Drivers claim overhead plane dumped feces on cars, people in Canadian town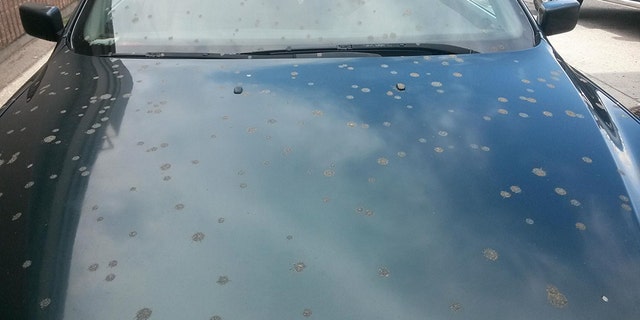 NEWYou can now listen to Fox News articles!
A government agency in Canada has launched an investigation into why liquid feces allegedly rained down from the sky on residents of British Columbia.
Locals in the town of Kelowna claim that, on at least two occasions, overhead planes were behind incidents in which their cars — and in a few cases, their hair and clothes — were covered in what they believed to be human poop.
On May 9, Susan Allan and her son Travis Sweet were driving through Kelowna with their sunroof open when an overhead plane "inundated [the] car with poop," Allan said in a statement shared with Fox News.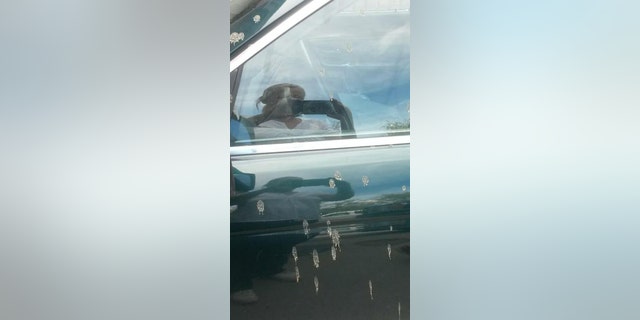 OWNER OF DOG WHO DIED DURING DELTA LAYOVER ACCUSES AIRLINE OF COVER-UP
"It was quite disgusting," Allan said. "I've had it in my eye, in my hair, on my face — my son had it all over his face down the front of his shirt," she added.
Allan told GlobalNews.ca that her stomach turned once she realized what had happened, and her son claimed he "almost vomited instantly" once he became aware of the smell.
She further alleged that some of the feces hit her in the eye, which required treatment after swelling to "the size of a golf ball." A note shared by Allan, reportedly from her doctor, says she contracted conjunctivitis in both eyes.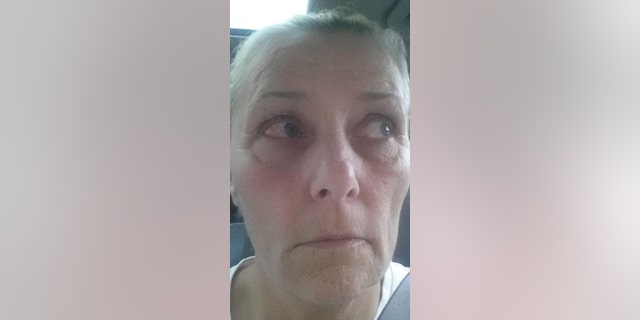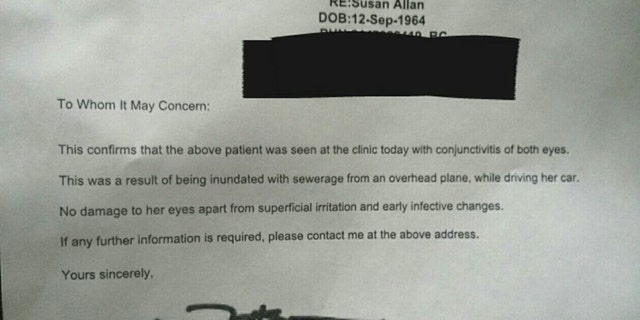 Days later, on May 12, a man named Brett Yates — who lives near the same intersection where Allan and Sweet were "inundated" — claims he went to retrieve his car from the parking lot, only to find it — along with others nearby — splattered with he believed to be feces.
Transport Canada, the Canadian government agency that regulates travel in the country, has confirmed an investigation is taking place.
"Transport Canada is collecting and reviewing information regarding the reported incidents of May 9 and May 12 and, as such, is not in a position to provide more details," said Daniel Savoie, a spokesperson for Transport Canada, in a statement obtained by CTV News.
PICS: AMERICAN AIRLINES VAN PLUNGES OFF FOURTH-FLOOR OF MIAMI AIRPORT GARAGE
Savoie further confirmed to GlobalNews.ca that "each air operator is responsible for ensuring that their aircraft operate safely and in compliance with the Canadian Aviation Regulations," which stipulate that no persons shall "drop an object from an aircraft in flight."
Allan, however, says she's hoping Transport Canada "figures this out soon," as she's looking to hold the airline or perpetrator responsible.
"What if it had let go in a big chunk? What if it went through my son's head and killed him? What if it came through my head and killed me?" said Allan on a CBC radio program. "This could be a much different circumstance than just poop in my eye, you know?"
FOLLOW US ON FACEBOOK FOR MORE FOX LIFESTYLE NEWS
Representatives for the nearby Kelowna International Airport directed inquiries to Transport Canada. Allan herself, however, claims she has received an email from a spokesperson for the airport that did point to one possible flight.
A spokesperson for the airport tells Fox News that currently, "there is no connection to an aircraft as Transport Canada's investigation is still ongoing."