Ditch Your Day Job to Travel the World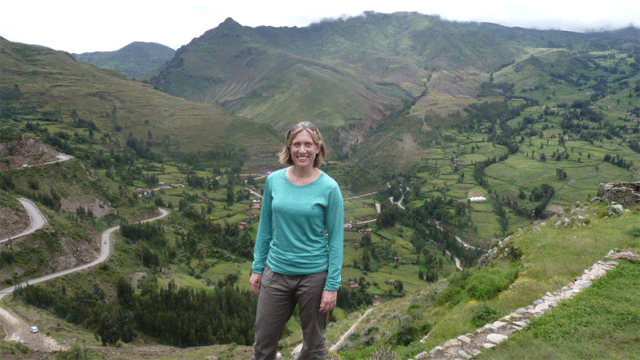 Have you ever thought about ditching your day job to travel around the world? It may not seem like the most practical idea during an uncertain economy. But that's not stopping young professionals from joining a growing movement of "career breakers."
"It's shaking up your normal routine in a big way with your passport in hand, " says Sherry Ott, co-founder of Meet Plan Go! an online community dedicated to helping people reach their travel goals.
"When you have a big goal you want to accomplish, it's important to have people around you who support you and can be your cheerleaders. It makes you feel less crazy." Ott describes a career break as "dedicated time away from your job from one month up to three years." She says anything less than a month falls into the "glorified vacation bucket."
Last year Katy Healy was working a 9 to 5 job managing a bank in Chicago and had just completed her MBA when she decided the time was right for a break.
"I always thought some day I'll go travel. I didn't think it was realistic. I had a good job, I owned a condo," says Healy.
For inspiration, the 28 year old posted the idea on her Facebook page. "All of my friends were like, 'Yes. Go. Now.' Then I read a quote that said 'today you're exactly where you are supposed to be. If you're not happy there, move.' I wasn't unhappy but it reminded me I can make my life exactly what I want it to be, so why not," Healy.
Healy faced another obstacle, her fear of flying. She decided to start small and launch her 'career break' adventure in the U.S. with trips to New York City and Boston. From there she headed north to Toronto and Montreal. Eventually she was boarding a flight to explore New Zealand and Australia. "It was hands down the best experience I've had in my life. I think I grew as a person. I was doing it on my own. You have to rely on yourself. "
After traveling to 18 countries over six months, Healy is back in Chicago and still searching for a full time job. "I was a little naïve to think I wouldn't have a problem and it's a hard job market. But something is going to work out eventually."
"The key to finding work when you come back is to be confident about selling your experiences and explaining how those travel experiences will benefit the company. Most often career breakers find that the career break on their resume makes them stand out and more memorable" to potential employers, says Sherry Ott.
Former TV producer Lisa Lubin used her career break to boost her resume by working while she traveled. She launched her own travel blog, LLworldtour.com and taught English in several cities, even worked at a cafe in Melbourne, Australia. Not only did her experience change her outlook on life, it also helped shape her career. "It made me feel like I could do and handle anything," she said.
Since returning home, Lubin recently launched her own video consulting business, LLMedia, allowing her to pursue her passion for travel. She recently hosted a Meet Plan Go! event to motivate aspiring career breakers. "I reached a tipping point where I finally realized it wasn't a distant dream, I could do it," Lubin says.
Once people considering a career break overcome the fear of leaving their jobs the biggest hurdle to overcome is cost.
Healy credits her frugal spending habits and years of saving for turning her dream into a reality. "I had all this money set aside and I wasn't doing anything with it. I could just go travel and blow through my savings."
Ott says you can't compare the cost of a vacation to what it costs to travel during a career break. "It doesn't cost as much to travel as people think. Extended travel/career break travel is a change in lifestyle, not an addition to your current lifestyle like a vacation is."
Career breakers can expect to spend close to $30,000 for a year of travel. During her first year of traveling solo Lisa Lubin stayed in mostly smaller, independent hotels and hostels.
Eventually she got connected with couchsurfing (couchsurfing.com) an online cultural exchange experience where members open their homes to travelers to stay for free.
"I met so many amazing friends, it was incredible... I got to see and do things with real locals, things I never would have seen on my own."
Career breaker Dave Nilson, a government contractor in Raleigh, N.C., traveled to six continents for a year and a half before he ran out of money and eventually had to use frequent flyer miles to get back home.
Nilson says his entire trip cost about $50,000 to visit 46 countries, throughout Central and South America, Europe, Africa, Asia and Australia. One of his most memorable experiences happened while traveling through South America.
"I was abducted in Ecuador. I got in the wrong taxi cab and some guys got in and started going through my bag to shake me down for money and they took off driving, but not the direction I asked the driver to go…. I was able to kick open the door and roll out to get away from them."
Even after that ordeal Nilson says he has no fears about traveling solo. His next destination is Antarctica.
There is not much detailed research available to show how many people are breaking away from careers for long term travel.
At a recent Meet Plan Go! networking event in Chicago, the average age of people attending was 38. Out of more than 100 people, almost everyone had full time jobs.
Ott says Generation X and Y workers typically show the most interest. "Gen Y professionals are less and less loyal to companies and move around more from company to company… they really value the idea of time off, sabbaticals and flexible work environments more than traditional company benefits like retirement plans and stock plans, which are volatile."
The best advice for those who are contemplating a career break is to make a plan and stick to it.
Keith Savage, from Madison, Wisc., was married with mortgage when he quit his job of eight years at a medical health software company to pursue his passion for travel and writing. He admits it wasn't a spur of the moment decision: "It took me three years from realizing I didn't like my job to actually quitting," Savage told a group of hopeful career breakers.
Since November 2010, Savage has spent one month in Argentina and two months in Scotland and writes about his experiences on his travel blog, Traveling Savage. "Everyone has their own scenario and things to deal with. There's no real right time to do this."