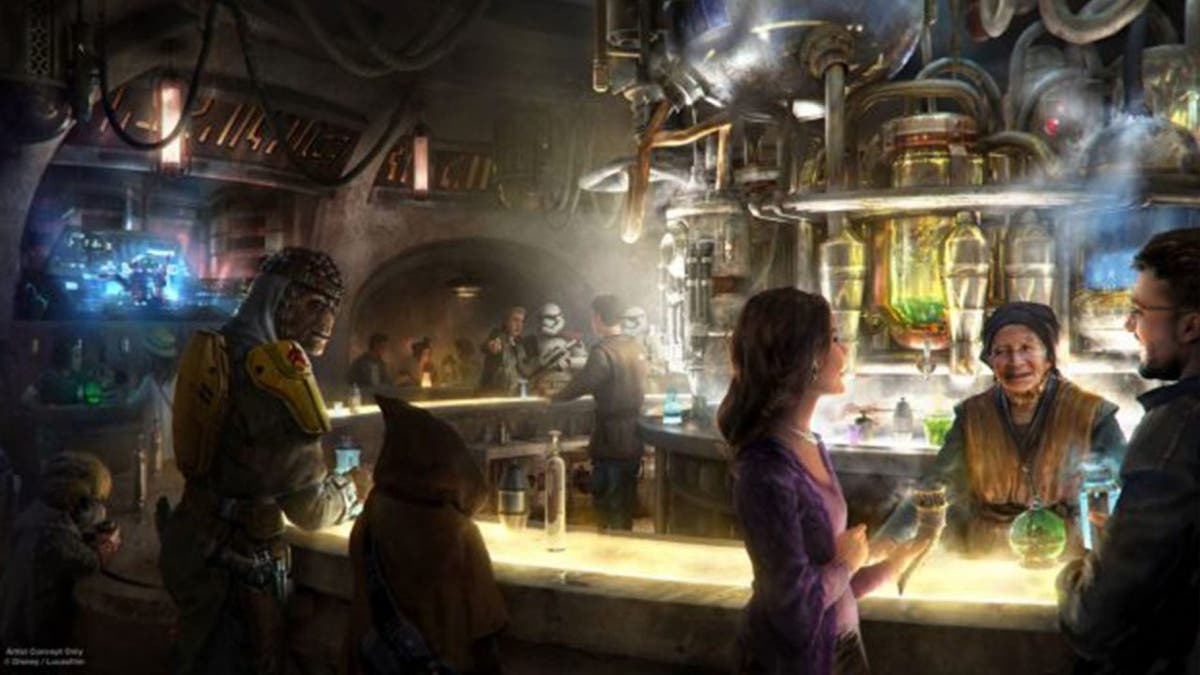 In a historic first, Disneyland will be selling alcohol as of this summer, though reps for the Happiest Place on Earth have announced that there will be one strict rule for merrymakers — any consumption of alcohol will be limited to a Star Wars-themed cantina.
Reps for the theme park confirmed this week via Twitter that visitors over 21 years old will only be allowed to drink in the confines of the upcoming Oga's Cantina at the new Star Wars: Galaxy's Edge attraction, Walt Disney World News Today reports.
TRUMP SUPPORTER EJECTED FROM DISNEYLAND AFTER HANGING LARGE TRUMP BANNER IN PARK: REPORT
An opening date for the Star Wars feature has not yet been disclosed. Details on Disneyland's official park page simply detail that Galaxy Edge will be open sometime during the summer of 2019.
Twitter users, meanwhile, were quick to share their honest reactions to the news on Twitter.
"That place is gonna be like two cans of sardines phased through each other," one cynic quipped of the cantina.
"Please implement a similar policy in DCA [Disney California Adventure Park,] it's sad when I see drunk people all around the park. Alcohol in the parks is fine when it is actually supervised," another opined.
Actress Jamie Lee Curtis even chimed in on the when news of Disneyland's inaugural alcohol sales first broke.
"I recently heard that they're going 2 serve alcohol at Disneyland. That upsets me. Why? Why couldn't there b a place 4 families to go without the possibility of having drunken idiots ruin their family time? What compelled Disney 2 make that decision?" the 60-year-old star wrote online.
Disneyland first announced alcohol would be available for public purchase this year in late August.
While the nearby California Adventure sells beer, wine and cocktails, as well as Disneyland's private Club 33, guests have never been able to purchase alcoholic beverages within the iconic park until now.
CLICK HERE TO GET THE FOX NEWS APP
Fox News' Michelle Gant contributed to this report.