Disney characters' appearance at rival Chinese theme park stirs potential legal tiff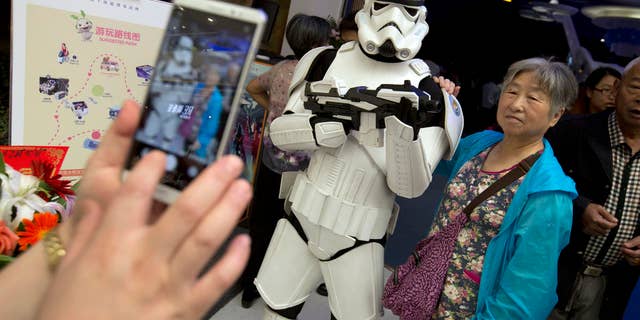 NEWYou can now listen to Fox News articles!
A theme park in China is facing the ire of the Walt Disney Company after performers dressed as Snow White, Star Wars Storm Troopers and Captain America appeared outside the park during its opening weekend celebrations.
Dalian Wanda Group Company—which is not affiliated with Disney or any of its brands—is China's largest commercial property company and the world's largest cinema chain operator.
It's also a major Disney competitor.
Ahead of Disney Shanghai's grand opening, scheduled for June 16, Wanda opened its own theme park and entertainment complex in Nanching in the southeastern Jiangxi province on Saturday. The Wanda Cultural Tourism City spans two-square kilometers, and features a theme park, a movie complex, an aquarium, hotels and retail stores. Wanda expects the manmade city to attract 10 million people a year, according to a press release.
But after the opening, videos and pictures began surfacing of Wanda park goers posing with characters like Snow White and Storm Troopers from "Star Wars."
"We vigorously protect our intellectual property and will take action to address infringement," the Walt Disney company said in an e-mailed statement to Bloomberg. "Our characters and stories have delighted generations, these illegal and substandard imitations unfortunately disappoint all who expect more."
But Wanda has vigorously denied there was any infringement of Disney intellectual property.
"Media reports say that Disney characters appeared within Wanda Park. This is inaccurate. The characters in question appeared in the business area of the Wanda Mall inside the Nanchang Wanda Cultural Tourism City," said a company statement. Wanda maintains the characters were hired by individual stores within the Wanda Mall, and did not represent the park.
Billionaire Wang Jianlin, the founder of Wanda Group, recently took a jab at Disney's new Shanghai attraction calling it "one tiger" that would be no match for Wanda's "pack of wolves."
According to Bloomberg, Wanda City cost $3.2 billion to build (Disney Shanghai cost a reported $5.5 billion) and is the first of 15 planned theme parks and entertainment complex being planned by the Chinese conglomerate.
Wanda City may not have legal rights to parade the likes of Snow White and Captain America through its new park, but it is signicantly cheaper than the competition. Entry costs about 198 yuan (about $30) on most days. Regular tickets for Shanghai Disneyland start at 370 (about $56) and go up to 499 yuan ($79) on peak entry days.