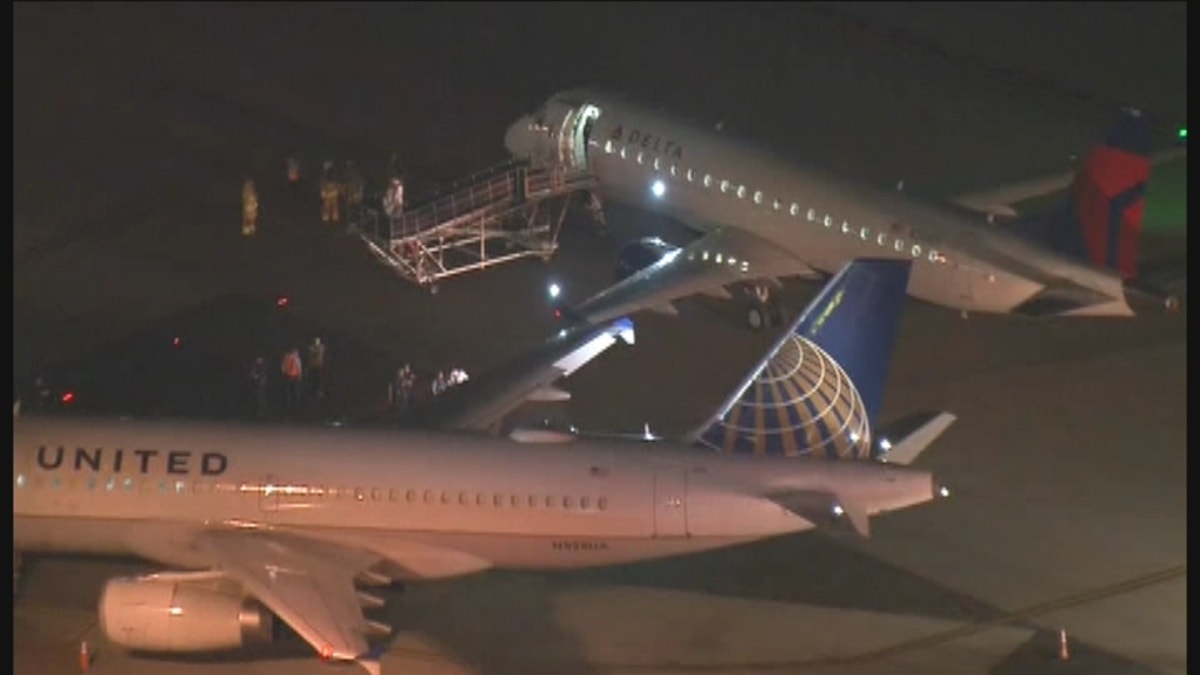 A Delta flight clipped the wing of a United Airlines aircraft after landing at Hollywood Burbank Airport on Tuesday night, though it's unclear which aircraft was at fault for the collision.
WATCH: PLANE CARRYING 222 PASSENGERS CRASHES INTO JET ON RUNWAY, SLICES OFF TAIL
SkyWest flight 4673, operating as a Delta Connection flight, had just landed from Salt Lake City and was taxiing to gate B1 when it struck the wing of the empty United plane parked at B2, KTLA reported.
"It felt like we hit a body," SkyWest passenger Bernadette Kashden told the station. "I said, 'What did we just hit? We actually just hit somebody?' And the guy who was sitting right by the wing looked over and said, 'No, we hit that plane; knocked its wing off.'"
Despite the second passenger's assessment, photographs from the site of the crash show both wings largely intact.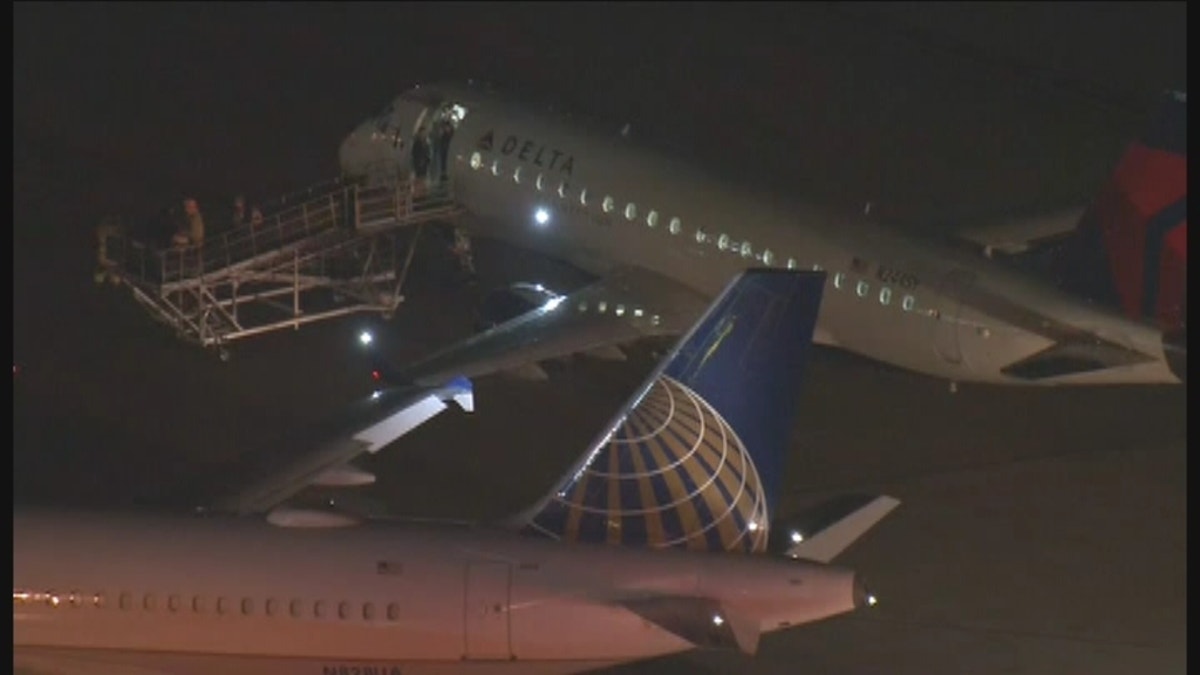 FEMALE PILOT CALLS OUT SEXIST PASSENGERS IN VIRAL TWEET
No injuries were reported, a spokesperson for Delta confirmed.
"After a routine landing in Burbank, California, a wingtip of SkyWest flight 4673, operating as Delta Connection from Salt Lake City to Burbank made contact with another aircraft wingtip while taxiing to the gate," Delta tells Fox News in a statement. "There were no injuries and all 42 passengers deplaned normally through the main cabin door."
Another SkyWest passenger, who spoke with KCAL, claimed that the pilot of the SkyWest flight suggested the United aircraft was to blame for being parked incorrectly at B2.
Delta did not confirm the SkyWest passenger's claims. United also declined to comment on the passenger's report, but confirmed there were no passengers aboard its aircraft at the time of the incident.
"A United Airlines aircraft briefly came into contact with another aircraft that was taxiing at Burbank," stated United. "There were no passengers on board the United aircraft and no reported injuries."
Runways at the Hollywood Burbank Airport, formerly known as Bob Hope Airport, remained open during the incident.