Delta apologizes to female passenger with MS who claims she was tied to wheelchair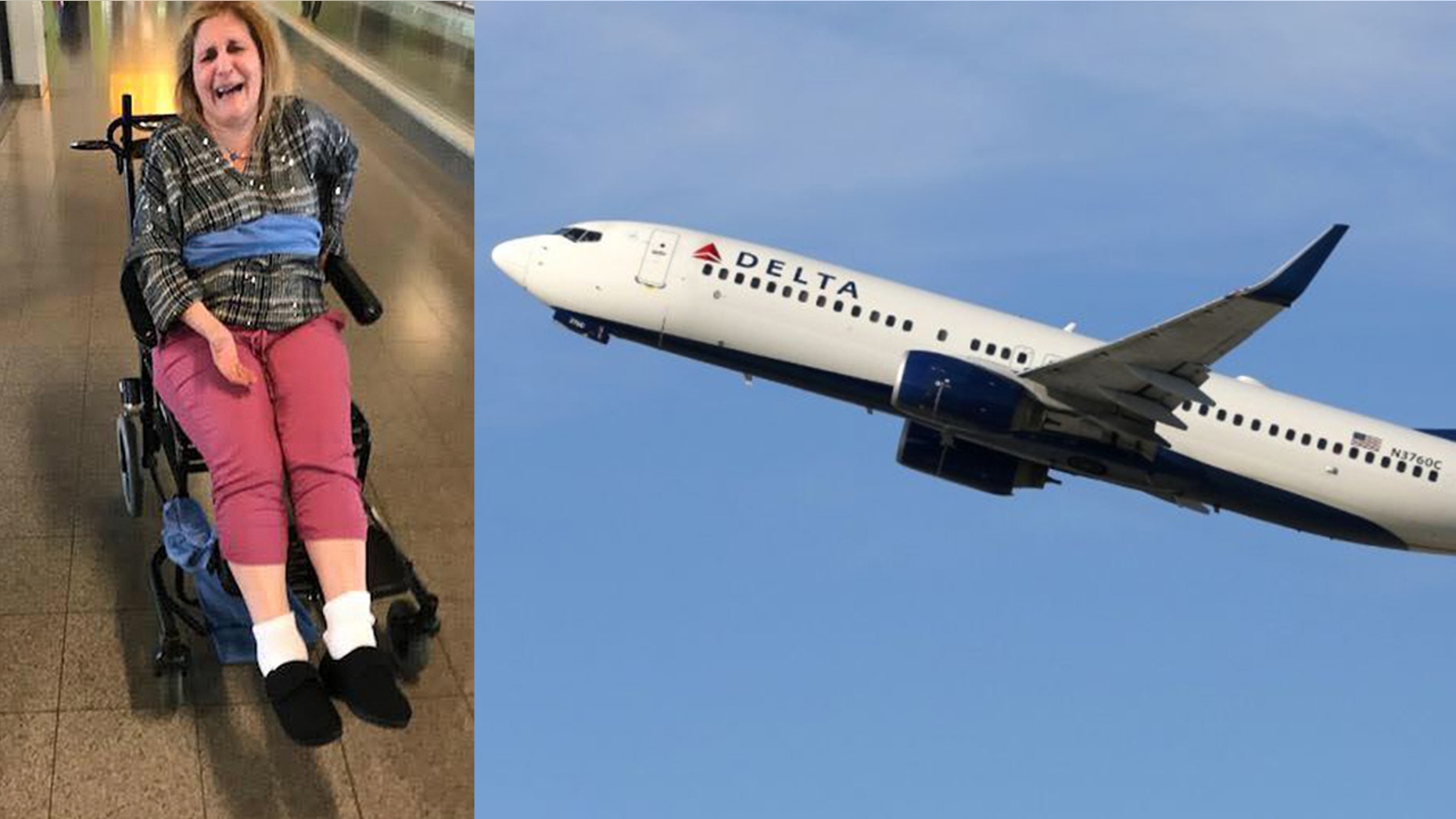 Delta Air Lines has issued an apology and offered 20,000 SkyMiles to a woman with multiple sclerosis who claims she was tied to a wheelchair with a blanket, because the carrier did not have the proper wheelchair to support her.
WSB-TV reported that the incident occured on April 1, when Maria Saliagas was flying with the airline from Atlanta to Amsterdam. Her son Nathan reportedly had coordinated with Delta to ensure the proper wheelchair would be waiting for her upon landing.
Since being diagnosed with MS five years ago, Maria needs a specific wheelchair model with special straps to help her sit up straight.
However, according to her son, the special wheelchair was not there for Saliagas when she arrived in the Netherlands, and an unidentified Delta staffer allegedly tied her to a regular wheelchair with someone else's blanket.
AIRLINE WANTS TO PUT YOUR FACE ON A PLANE
"They took a dirty blanket and tied her forcefully with it and she has bruise marks on part of her arm because it was so tight and she started crying," the son told WSB-TV of the traumatic situation.
"I definitely know that they're a good airline, I'm not doubting that at all, but in this specific situation, there was no courtesy, no respect," he said.
When asked for comment on the story, Delta told Fox News that they believe a different version of events.
"We are disappointed that our customers didn't have a satisfying travel experience and will ensure that their return flight exceeds expectations. While Delta always looks for ways to improve the overall customer experience, our findings do not align with details shared by the customer's family," a representative said.
PASSENGER DIES ABOARD ALASKA AIRLINES FLIGHT FROM SEATTLE TO KANSAS CITY
According to Nathan, Maria was offered 20,000 free SkyMiles after complaining about the incident, but the Saliagas had rather hoped that the horrifying experience will initiate policy change to better accommodate passengers with disabilities.
FOLLOW US ON FACEBOOK FOR MORE FOX LIFESTYLE NEWS
It's been a wild month for the Atlanta-headquartered carrier. In early April, they announced that a September 2017 cybersecurity breach involving an online chat vendor may have exposed "customer payment information." Days later, a passenger spoke out after a child on her Minneapolis-bound flight repeatedly kicked her, causing bruised ribs.
Later in the month, on April 19, a woman flying Delta from London to Salt Lake City, Utah, had a violent outburst midflight, in which she toppled a drink cart and threw coffee before attacking an air marshal, police say. And on April 23, another passenger was fined $500 for saving a free Delta Air Lines snack.