Delta Air Lines attacked on social media for taking longer to deplane than flight itself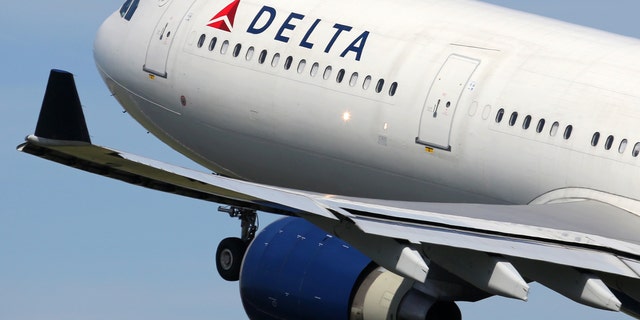 Delta Air Lines was bombarded with complaints on social media on Sunday after a flight from Minneapolis-St. Paul to Sioux Falls took an hour to deplane – five minutes longer than the flight itself. The airline blamed a shortage of staff and another plane landing at the same time.
Delta Flight 2048 was scheduled to land at 9:18 pm, but by the time passengers were allowed to deplane, it was 10:33 pm.
Delays when deplaning are not unusual, but it's usually 5 or 10 minutes, not an hour, Dan Letellier, the airport's executive director told USA Today.
"I don't know the exact timing of it, but obviously it was a lot longer than normal, Letellier said.
DELAYED AMERICAN AIRLINES FLIGHT LEAVES PASSENGERS ANGRY, SLEEPING ON AIRPORT FLOOR
The passengers onboard were frustrated with the lengthy delay and took to Twitter to voice their grievances.
A Twitter user wrote a scathing response to the delay, "Just experienced the absolute worse customer service. Way to go @Delta!! Our plane had to sit for an hour in Sioux Falls due to YOUR staffing issues. How thoughtless of you!"
"Why can't we get off the plane in Sioux Falls? 30 min and waiting. Tell us short ground crew? Come on. Have you been here before, this is a quiet airport!" one said.
"We've been waiting on the tarmac longer than the flight itself. Really unacceptable," another tweeted.
Lisa Johnson, who arrived at the airport with her husband, Steve, to pick up their 18-year-old daughter, was confused about the delay.
"I don't understand. Why couldn't they put them at another gate?" she said to USA Today.
The "unacceptable" delay, Letellier said, was due to a shortage of crew and an extensive delay of another flight. An Atlanta flight was supposed to depart at 6 am, but did not take off until 10:25 pm, USA Today reported. The late arrival took priority at the Sioux Falls airport, Delta officials said.
"Delta apologizes to customers on Flight 2048 from Minneapolis who were delayed deplaning in Sioux Falls while Delta's ground crews worked to board another flight at an adjacent gate," airline representatives said in a statement.
FOLLOW US ON FACEBOOK FOR MORE FOX LIFESTYLE NEWS
Letellier said it is possible the airline was understaffed, also, and did not have enough ground crew working to handle the arrival of two flights simultaneously.