Delayed American Airlines flight leaves passengers angry, sleeping on airport floor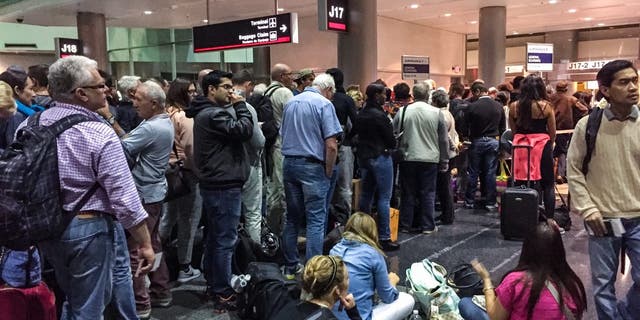 NEWYou can now listen to Fox News articles!
An American Airlines flight to Chile had to return to Miami International Airport after only an hour into the trip because of mechanical issues. The flight ended up being delayed for 15 hours, allegedly forcing passengers to spend the night on the airport's floor.
The flight returned to the airport around 12:30 am just after the pilot reported a mechanical issue, Lakesha Brown, a spokeswoman for American Airlines told Local 10.
The company rescheduled the flight for 12:30 pm on Sunday, but then rescheduled it again for 3:45 pm.
'MOB' BREAKS OUT AT DES MOINES INTERNATIONAL AIRPORT AFTER 14-HOUR DELAY
During the 15-hour delay, angry passengers claim they had to sleep on the floor of the airport because the airline did not offer them hotel accommodations.
One passenger, Jacob Chen, recorded a video of passengers in the terminal demanding "we want a bed" in Spanish.
Chen told Local 10 that the airline gave hotel accommodations to some passengers, but not everyone. He said an airline worker told him there were no more rooms available.
"We landed again at 1 a.m. after being in the plane for an hour," Chen said to Local 10. "It wasn't until 3 a.m. did American finally tell everyone to sleep in the lobby."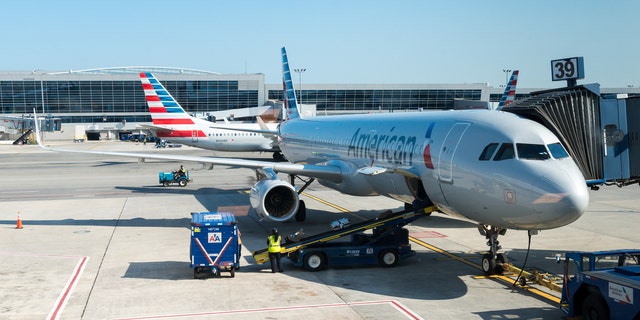 Chen said passengers were given a $7 food voucher and were asked to "have patience," Local 10 reports.
Brown denies the claim that not all passengers were offered rooms and vouchers and said the airline followed company policy.
As part of the company policy, American Airlines provides passengers with hotel accommodations and meal vouchers when planes are grounded because of mechanical issues.
American Airlines apologized for the incident in an official statement:
"Our team is aware of the extensive delay of flight 957 Saturday night from Miami to Santiago, Chile, which was the result of a mechanical issue. We never want to disrupt our customers' travel plans, and we are sorry for the trouble this caused. We have spoken to our Miami team, and customers were provided hotel accommodations and meal vouchers."
FOLLOW US ON FACEBOOK FOR MORE FOX LIFESTYLE NEWS
The airline also said passengers were given additional compensation for the situation.
"Additionally, our customer relations team has reached out to all of those passengers impacted to offer our apologies and an additional form of compensation for the delay."