Croatian national park warns tourists to stop taking 'dangerous selfies'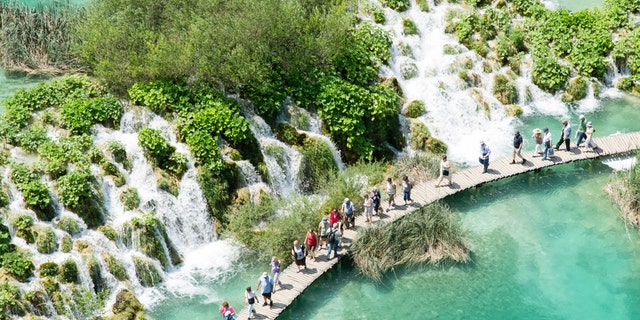 NEWYou can now listen to Fox News articles!
Public officials at Plitvice Lakes National Park in Croatia are concerned that tech-savvy tourists are risking their lives at the UNESCO World Heritage Site in search of the perfect selfie.
Earlier this month, The Croatian Mountain Rescue Service tweeted at followers to "stop making stupid and dangerous selfies" following a recent incident involving a Canadian tourist who nearly to fell to his death while trying to take a selfie at a popular vantage point. According The Telegraph, the hiker "miraculously survived" the 246 foot tumble after a tree branch helped break his fall.
Dear tourists, we respect you. It's time for you to start respecting yourself. So, stop making stupid and dangerous selfies. Thank you #HGSS

— Hrvatska GSS (@HrvatskaGSS) July 6, 2016
Katarina Poljak, one of the park's guardians, told Croatian media that, "Visitors are no longer satisfied with sticking to the trails but are roaming beyond them to get away from the crowds and get nice photos."
Earlier this year, a 54-year-old Slovakian tourist died after she reportedly ignored posted safety warning and jumped over a fence to get a selfie on the edge of a cliff. Maria Braun, an 82-year-old from Germany, also died when she fell from the same spot along the Plitvice Lakes' vantage point, last year.
The park has seen a surge in visitors in recent years, welcoming about 1.2 million guests in 2015—up to 15,000 people a day. The Director of Plitvice Lakes Andjelko Novosel told Croatian media that UNESCO had raised concerns about nature site, one of the country's eight World Heritage Sites, losing its status due to overcrowding and unchecked construction of vacation apartments.
"Plitvice is faced with two key problems: excessive visits and excessive construction, as UNESCO warned on its official web page," he confirmed.
In addition to warning guests about selfies, authorities are planning to impose a ban on flip-flops and sandals in an attempt to prevent more accidents.
Established in 1949, Plitvice Lakes is Croatia's oldest national park. It draws huge crowds due to its vibrantly colored lakes, waterfalls and craggy, karst rock formations.
Other UNESCO Heritage Sites have faced similar problems with tourists endangering themselves while taking photos. Earlier this month, a German tourist fell to his death while posing for a photo in Machu Picchu, the Inca citadel in southern Peru.