Comedian Jane Lynch's Secrets to Family Travel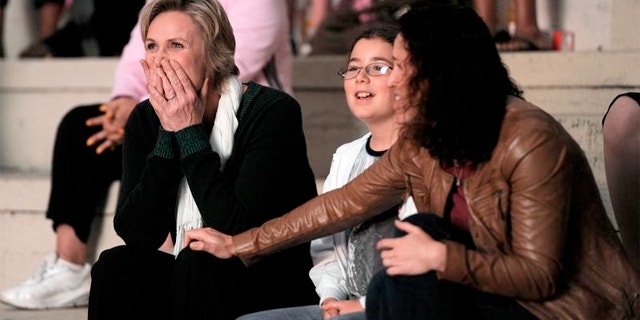 Jane Lynch's impeccable comedic timing and acting has turned her character Sue Sylvester on Fox's "Glee," into the newest queen of mean.
Lynch's long list of TV and film credits have made her one of the most recognizable actresses in Hollywood. Although her role on the hit TV show already earned her a Golden Globe and an Emmy in the past, this year she wasn't so lucky.
As host of this year's Emmy's, the star joked about being a "loser" to "Modern Family's" Julie Bowen.
But fear not, Gleeks, Lynch, 51, may not have gone home with an award but she did go home to her own beautiful "modern family."
Fresh off her Emmy hosting duties the star spoke to Fox 411 about juggling her growing career and vacation time with her wife Dr. Lara Embry and their two step daughters, Haden, 10, and Chase, 11.
So, when she isn't squashing the dreams of pesky glee club members, how does Coach Sylvester escape?
Lynch: If I don't have much time, we like to go to Santa Barbara, Montecito. It's so beautiful up there. They say it's like the Italy of California. Mist rolls in from the mountains, it's a gorgeous place to go.
We also love Vermont, the Woodstock area. It's really sweet. And it's really beautiful in the summer, and gorgeous in the winter. I've been to Ireland once and it was a trip that just blew my mind. It's the greenest place in the world. I bicycled along the Western coast. It was called Coast in Kerry. That's beautiful. I love Ireland.
Fox411: Being a TV actress, I'm sure is exhausting. Do you look for fun activities on vacation or to simply laze around?
Lynch: Now that I have a family, it's activities. It used to be turn the switch off. So, we do a little bit of both.
Fox411: How can a family ensure a memorable vacation in Santa Barbara and Montecito?
Lynch: We knew some people who lived there, and through trial and error know where to go in Santa Barbara and Montecito. You just try new things, stay open to it and read the stuff. Get online and read Yelp, read the websites.
Fox411: Your work allows you to travel a great deal, where is your favorite work-related spot?
Lynch: I love Vancouver, I used to go to Vancouver a lot, and it's a great town. A beautiful park, great food and it's so diverse. There are so many different neighborhoods. There's a Chinatown and little Tokyo and really great food. It's a wonderful place.
For more on Jane Lynch's favorite spot check out our Vancouver vacation guide >>