A Carnival Cruise passenger who allegedly found a camera in his room during a getaway in October 2017 is speaking out, claiming that Carnival has not contacted or apologized to his family since the incident.
"We weren't trying to get anything out of it. We weren't expecting a free cruise or money," Chris White tells Fox News. "But they did not even give us an apology."
White was on day two of the five-day Carnival Voyage cruise from Alabama to Mexico when he allegedly discovered the hidden camera in his stateroom during an allergy attack.
White said he moved the TV to inspect for dust. Sticking out from the wires, he said, was a small camera – still warm to the touch – with its lens pointing directly at the bed, The Miami New Times reported. He also snapped photos of what appeared to be an antenna on the back of the device.
"I asked my wife, 'What is this? Is this what I think it is?' We both just went white as ghosts," he told the New Times.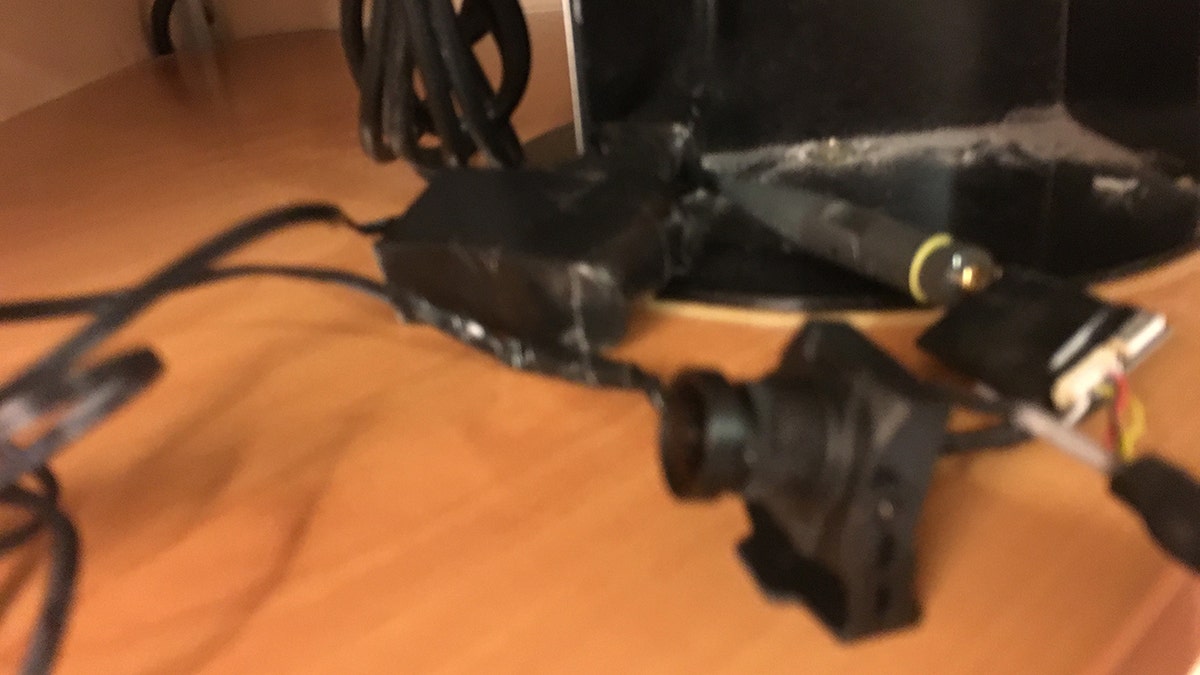 "My main concern is there is video of [my son] online now. And I'll never know," he added.
CRUISE PASSENGER RESCUED 10 HOURS AFTER FALLING OFF SHIP IN CROATIA
The ship's security team sent an officer to the family's cabin to inspect and dismantle the camera, but the family feels Carnival's staff tried to downplay the severity of the situation, telling them it was not in working condition and was likely left by a recent guest — despite the camera being covered in dust, the New Times reports.
"I feel they were trying to cover it up by lying about what was found. Later, a brand ambassador for the company even said it wasn't a camera at all," White told Fox News.
The dad also believes the staff may have compromised the evidence by handling the camera without gloves, as seen in footage uploaded to the YouTube channel Cruise Law.
"When something like that is found, you are supposed to collect the evidence and secure the room. And the FBI is supposed to board the ship to investigate," White told Fox News. "None of that was done."
"They did not even give us a new room or anything to prevent contamination of what was now a crime scene," White added.
TITANIC II TO SET SAIL IN 2022, FOLLOWING ORIGINAL ROUTE
Though White said he and his family were content to stay anonymous and handle this with Carnival, they ultimately decided to come forward and identify themselves because of Carnival's statement, claiming they were doing everything they could.
"They did not do everything they could have done," White said to Fox News. "They said they reached out to the FBI, but I was the one who reached out to the FBI. They had not even heard about the incident until I reported it."
A subsequent statement from Carnival Cruise Line reiterated that the camera was non-operational, and further claimed that Carnival conducted a "full investigation" in accordance with U.S. authorities.
"In October, a small, non-working camera was found in a cabin aboard Carnival Fantasy during a cruise departing from Mobile, Ala. After review by the ship's technicians, it was determined that the device was not operational," the cruise line stated.
"A full investigation was conducted by the shipboard team in tandem with Carnival's shoreside security personnel who also notified U.S. law enforcement, including the FBI, U.S. Customs and Border Protection, and local police, when the ship arrived in Mobile following the cruise."
"This is certainly a unique and unusual occurrence and it is unclear who or why this transmitter was placed in the guest's stateroom. The safety and security of our guests and crew is of paramount importance and we have taken measures so that this sort of situation does not happen again," the statement concluded.
FOLLOW US ON FACEBOOK FOR MORE FOX LIFESTYLE NEWS
The Whites are currently in contact with maritime lawyer James Walker, but do not yet plan to file a lawsuit.
Fox News' Michael Bartiromo contributed to this report.