Amid flight delays, smarter travel might get you through Hurricane Sandy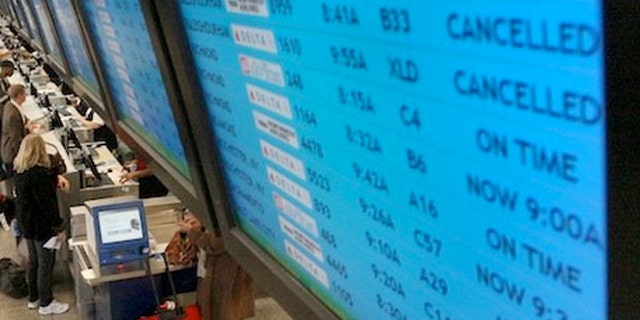 Hurricane Sandy is pounding the Bahamas, and the "Frankenstorm," as it has been dubbed, is looking more ominous by the hour.
Forecasters say it could wreak havoc on the busy northeastern corridor, making landfall in New Jersey by Monday or Tuesday.
Already many major air carriers have waived cancellation and change fees for travelers headed for Jamaica, Haiti and the Bahamas through Oct. 26.
For example, American Airlines will allow customers to change their plans free of charge. United will waive change fees and fare differences for passengers traveling on or before Saturday to its destinations in the Bahamas.
"If you can postpone your trip, try calling your airline proactively now and ask to be put on a flight after the hurricane is no longer an issue," says George Hobica, founder of Airfarewatchdog.com. "You might find that your airline would be more than happy to rebook you without a change fee."
But for those expecting to travel in the next few days, travel experts say the best thing to do is keep checking with the airlines.
If you've got a ticket already, one way to do that is to sign up for alerts from your carrier and follow them on Twitter. Most airlines also have apps that will allow you to get the latest information on your flight.
If you don't have a smartphone, you can also call, but be sure to expect long wait times. TollFreeAirline.com offers toll-free numbers for most major airlines.
Keep in mind that hurricanes are considered a "force majeure" event or an "act of God" by the airlines, or in other words out of the airlines' control. As a result so the only thing travelers are entitled to is a refund, so standing at the reservation desk demanding that the airline put you on another plane probably won't get you anywhere.
"Airline rebooking policies are all over the place," says Hobica. "Some will refund your fare, even if it it's a non-refundable; others will require that you travel on your original itinerary as soon as the skies clear." He advises to book with the more lenient airlines when traveling during hurricane season.
And if you have travel insurance, now is the time to pull it out and read the fine print.
Be sure to pack smart and light. Checking in luggage during a time of mass flight delays and cancellations could mean you run the risk of your luggage getting delayed or lost. Take special care to have essential items, like cell phones (and chargers), medications, hotel and airline phone numbers in your carry-on luggage.
If you don't yet have a ticket, avoid major hubs and areas that will be hit by the storm. That could be hard to do. So if you try and fly standby, note that you need a confirmed reservation.
If you're concerned that you can't get on your flight and are considering a rental car, be sure to plan ahead as much as possible. Other stranded travelers will be also seeking alternative modes of transportation, and rental car companies will be very busy. Make reservations at several rental car agencies to increase your chances of getting a car. Just be sure to check with the each agency about its no-show policies to ensure you're not paying a penalty.
And above all else, remain calm. Traveling during a major storm isn't recommended. But if you have to do, expect delays –sometimes long ones.