American Airlines passenger details 'horrifying' flight next to masturbating seat-mate, says 'choose any other airline'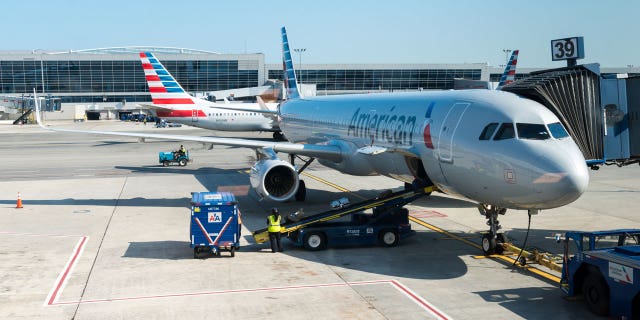 An American Airlines passenger is speaking out about a "horrifying" ordeal she experienced on a recent flight.
Chloe King, a social media manager from New York City, was en route to Charles de Gaulle Airport in Paris, France, when she awoke from a nap to learn that the man next to her had been masturbating while she slept, reports the New York Daily News.
LOOSE BEVERAGE CART LEFT AA PASSENGER WITH BRAIN INJURY, SAYS LAWSUIT
In an essay she wrote for Medium, King explained that the woman seated on the man's other side (he was in the middle seat, King was by the window) saw the man masturbating and informed a flight attendant, who allowed the woman to switch seats.
According to King, the man was informed that he would be arrested upon landing, but King herself was not notified or woken up by the flight crew during the incident. She only learned of the man's actions after she awoke a bit later, as the plane was descending toward Charles de Gualle. King says at that point, a flight attendant called her to the back of the plane and explained what had happened, because "they just wanted to let me know."
"What they didn't do was wake me up and move me to a safe place," King wrote in her Medium article, titled "We've Now Reached Creeping Altitude."
King further claims that she wasn't allowed to switch seats, unlike the other woman who had been seated next to the man.
"Instead, they made me climb back over the sex offender, trapped between him and the window for the rest of the flight. I was shaking and crying and trying not to get sick," said King.
After landing, King said she was met with "blank stares" at the American Airlines desk after reporting the crew's actions. She also claims the company sent her a "generic" email after escalating the matter to AA's legal department.
Now, King is begging others not to fly with American, over what she believes was a failure on their part to "protect [her] safety in a horrifying situation."
"You chose to treat the man committing the crime with far more respect than the unconscious woman sitting beside him," wrote King, addressing American directly. "As humans, we deserve more than that."
FOLLOW US ON FACEBOOK FOR MORE FOX LIFESTYLE NEWS
She concluded the piece by asking readers to "please, choose any other airline" — a sentimenet she reiterated on Facebook.
American Airlines has responded to King's complaints in a statement they provided to the Daily News.
"We are reviewing how we handled the situation on this flight, and have reached out directly to Ms. King," said a spokesperson for American Airlines.
The man was reportedly taken into custody after arriving in Paris.
King was not immediately available for comment.