Allegiant Air flight evacuated after smoke fills cabin: 'We used our shirts to mask our faces'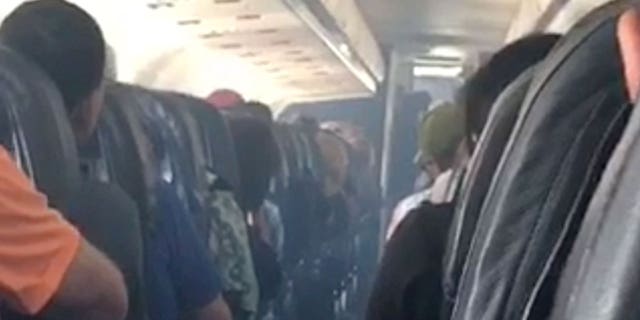 Allegiant Air was forced to evacuate passengers from one of its aircraft on Monday after a "mechanical issue" caused smoke to fill the cabin upon landing in Fresno, Calif.
Allegiant Air flight 514, which had just arrived at Fresno Yosemite International Airport from Las Vegas, had abruptly stopped during taxiing when smoke began emanating from the front of the plane, according to passenger Estevan Moreno.
NAKED PASSENGER DELAYS SPIRIT FLIGHT LEAVING FROM LAS VEGAS
"We used our shirts to mask our faces from the smoke," said Moreno, reports the Associated Press. "I was coughing pretty good from it."
In footage captured by Moreno, people can be seen fanning themselves with pamphlets and covering their faces to avoid breathing the smoke.
In another video, a crew member can be heard acknowledging the problem over the intercom, but stating that passengers would not be able to deplane immediately. Moreno added that flight attendants announced they would come around with wet napkins for passengers to use as breathing filters, though that didn't end up happening. (WARNING: Footage contains crude language.)
Firefighters eventually made their way onto the plane, and together with the cabin crew, they escorted all 150 passengers out of a rear exit. Allegiant says no passengers or crew were injured during the incident.
COUPLE JOINS MILE HIGH CLUB ON SOUTHWEST FLIGHT TO VEGAS, GETS CAUGHT
"Allegiant flight 514 with service from McCarran International Airport (LAS) to Fresno Yosemite International Airport (FAT) landed normally in Fresno at 11:57 a.m.," wrote Allegiant in a statement obtained by YourCentralValley.com. "While taxiing to the gate, a mechanical issue arose that caused a visible haze to appear toward the front of the aircraft.
"Out of an abundance of caution, the crew decided to stop short of the gate and passengers deplaned with any carry-on items via the rear stairs," Allegiant added. "Passengers proceeded to the terminal to pick up their baggage per normal procedures."
FOLLOW US ON FACEBOOK FOR MORE FOX LIFESTYLE NEWS
Moreno also told the Associated Press he received a $50 voucher for another flight from Allegiant following the incident.
A representative for the airline was not immediately available to comment for Fox News.