A 'Toy Story'-themed plane is here to take Pixar fans to infinity and beyond
The world's first "Toy Story"-themed plane, operated by China Eastern Airlines, took Woody and Buzz fans from Shanghai to Beijing for the first time on April 28, Forbes reported. The aircraft is part of a collaboration between China Eastern Airlines and the Shanghai Disney Resort.
More From Travel + Leisure
On the outside, the plane features a giant Buzz Lightyear emblazoned on the fuselage. Inside, travelers can totally immerse themselves in the "Toy Story" world with brightly colored seats (featuring their favorite characters on the headrest), themed in-flight headphones, check in machines, and food and drink menus.
The ceiling of the aircraft is also painted with fluffy clouds and beloved characters.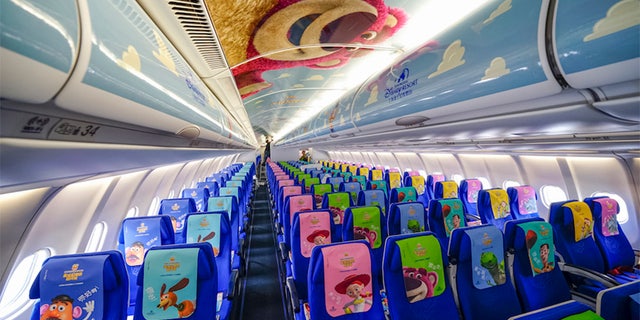 The Shanghai Disney Resort also features a "Toy Story"-themed hotel.
China Eastern Airlines also operates two other Disney-themed aircrafts, featuring Mickey and Minnie Mouse.
At the moment, the plane will only fly between Shanghai and Beijing, but may serve other Chinese cities in the future, according to Disney Parks.