11 unexpected delights in Virgin Australia's business class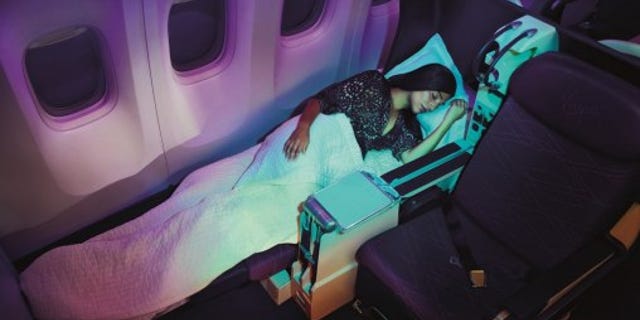 I spoke at a conference in Australia last week and was lucky enough to be flown from Los Angeles to Sydney and back in business class on Virgin Australia. The cabin had all the usual niceties you'd expect in a Virgin international business-class cabin on a 15-hour flight: seats that convert into horizontal "beds," a personal screen with a large selection of movies and TV programs that you can start or stop whenever you want, delicious food served whenever you want, and an electrical outlet and USB slot.
But there were unusual touches as well—things that I see infrequently or had never seen before in business class—and so I thought I should let you know about them:
Personal attention from your flight staff starts in the lounge.You get to use the Virgin America club lounge at LAX, where the "flight manager" (head flight attendant), who will be onboard your Virgin Australia flight with you, actually comes around to each passenger to introduce herself and ask if she can assist you in any way before the flight.
Comfy black pajamas.The last time I got pajamas to change into for a flight was in first class on Cathay Pacific to Hong Kong.
A ladies-only lavatory. And usually no wait for it.
A bar. A four-stool bar spans the middle of the business-class cabin, separating rows 1 through 4 from row 5.
A row (virtually its own cabin) with privacy curtains. The business-class portion of the plane consists of 5 rows of 2-3-2 seating. You might want to request row 5 because it's located in virtually its own cabin, between the bar and the premium economy section. It's colder in row 5 than in the first four, though, so bring a sweater to wear over your pajamas.
Sydney Opera House salt and pepper shakers with dinner. If you ask, they'll let you keep them as a souvenir. Which is why I now have a set on my kitchen table.
You fill out a detailed breakfast-order card that's like the room-service card you get at fine hotels. The card also lets you choose whether or not you want to be woken up for breakfast two hours before landing. On both the outbound and return flights, I opted not to be woken. On both flights I woke up anyway, about 30 minutes late, and was brought the full hot breakfast I'd requested.
Your lie-flat-seat "mattress pad" and comforter are white. When you're ready to lie flat, the flight attendant places a cushiony white pad along the length of the "bed," and you get a matching white comforter. The effect is that you're reassured that your bedding is spotless; in fact, it looks brand new. The "beds," by the way, are six-foot-two-inches long and 23 inches wide.
You can pretend you're sleeping under the stars. When the lights are off and everyone is dozing, tiny white stars show up on the dark ceiling.
The flight attendants are splendidly polite and attentive. It's like they all went to manners school and learned ESP. They seem to be able to predict a passenger's needs at every moment, whether it's more bread with your dinner or you'd like your bed neatened up while you're in the lavatory or you're an older passenger just wanting to talk to someone.
You're expedited through Immigration and Customs at Sydney Airport. They give you an "Express Path" card that allows you to use the Sydney airport's swift priority lines for Immigration and Customs. When you check in at SYD for your return flight to LAX, they again give you the card to expedite you through SYD. At LAX, however, there is nothing to help expedite you through Terminal 4—unless you have Global Entry.
Read this story at Condé Nast Traveler
More from Condé Nast Traveler
The Best Fall Foliage in the U.S.
One of these Photos Will Win a $25K Prize: Which Should it Be?
Expert Tips to Avoid a Missed-Flight Nightmare