Will Robonaut Boldly Go Where NASA Won't?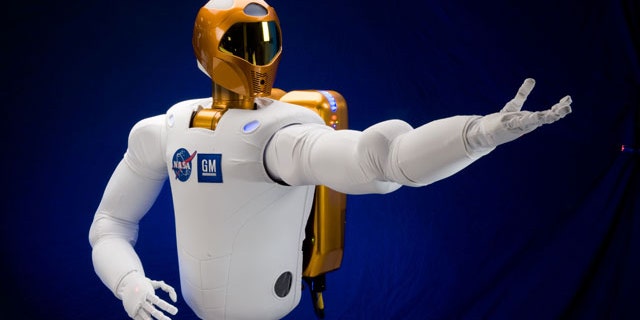 NASA's humans-in-space program may be on hiatus following dramatic recent budget cuts, but the agency's robots-in-space program is alive and well.
In conjunction with manufacturing partner General Motors, the space agency has unveiled the latest generation robotic astronaut, dubbed Robonaut 2. NASA says that the robot is designed to work side by side with people; its leading edge control, sensor and vision technologies could assist astronauts during hazardous space missions.
SLIDESHOW: NASA Unveils Robonaut 2
"This cutting-edge robotics technology holds great promise, not only for NASA, but also for the nation," said Doug Cooke, associate administrator for the Exploration Systems Mission Directorate at NASA Headquarters in Washington. "I'm very excited about the new opportunities for human and robotic exploration these versatile robots provide across a wide range of applications."
NASA points out that the first generation of the robot was built by the software, robotics and simulation division at Johnson in a collaborative effort with the Defense Advanced Research Project Agency (DARPA) 10 years ago. That generation was designed to be controlled by astronauts inside the International Space Station using a virtual reality interface: helmets and gloves wired to record their motions and immediately transfer those intentions and actions to robots outside the station.
Robonaut B, the second generation model unveiled in 2004, was built with human-like hands and television camera eyes, and gained the option of rolling around Earth on a modified two-wheeled Segway scooter or grappling the International Space Station (ISS) with what researchers call a "space leg."
"We're looking at other lower bodies for the moon, with a four-wheel or six-wheel base," Robert Ambrose, Robonaut project lead at NASA's Johnson Space Center (JSC) in Houston,Texas told SPACE.com in 2004. "We're not going to take a Segway to the moon, but it's a good way to emulate the idea on Earth."
NASA and GM, with the help of engineers from Houston's Oceaneering Space Systems, developed and built R2, the latest generation of the androids. It's faster, more dexterous and more technologically advanced than the first generation creations.
Space.com contributed to this report.