WikiLeaks Ready to Release Giant 'Insurance' File if Shut Down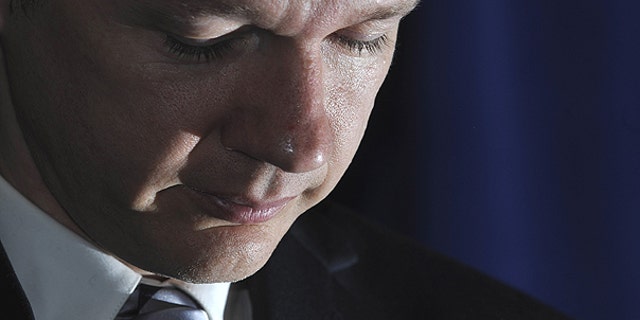 Julian Assange, the WikiLeaks founder, has circulated across the internet an encrypted "poison pill" cache of uncensored documents suspected to include files on BP and Guantanamo Bay.
One of the files identified this weekend by The Sunday Times — called the "insurance" file — has been downloaded from the WikiLeaks website by tens of thousands of supporters, from America to Australia.
Assange warns that any government that tries to curtail his activities risks triggering a new deluge of state and commercial secrets.
The military papers on Guantanamo Bay, yet to be published, have been supplied by Bradley Manning, Assange's primary source until his arrest in May. Other documents that Assange is confirmed to possess include an aerial video of a U.S. airstrike in Afghanistan that killed civilians, BP files and Bank of America documents.
One of the key files available for download — named insurance.aes256 — appears to be encrypted with a 256-digit key. Experts said last week it was virtually unbreakable.
Click here to read this story from The Sunday Times.
The U.S. Department of Defense says it is aware of the WikiLeaks insurance file, but has been unable to establish its contents. It has been available for download since July.
Assange has warned he can divulge the classified documents in the insurance file and similar backups if he is detained or the WikiLeaks website is permanently removed from the internet. He has suggested the contents are unredacted, posing a possible security risk for coalition partners around the world.
Assange warned: "We have over a long period of time distributed encrypted backups of material we have yet to release. All we have to do is release the password to that material, and it is instantly available."
The "doomsday files" are part of a contingency plan drawn up by Assange and his supporters as they face a legal threat. He is wanted in Sweden over sexual assault allegations, and the US administration is reviewing the possibility of legal action after the release of 250,000 diplomatic cables.
Ben Laurie, a London-based computer security expert who has advised WikiLeaks, said: "Julian's a smart guy and this is an interesting tactic. He will hope it deters anyone from acting against him."
Nigel Smart, professor of cryptology at the U.K.'s Bristol University, said even powerful military computers would be unable to crack the encryption. He said: "This isn't something that can be broken with a modern computer. You need the key to open it."
The file is 1.4 gigabytes in size, which would be big enough for a compressed version of all the files released this year and additional data.
Assange said last year that he had been leaked a computer hard drive from an executive at Bank of America and warned this month he was planning a major release on a large American bank. He also claims to have confidential files on BP and other energy companies. Tens of millions of personal computers were hijacked last week in an act of sabotage that crippled the WikiLeaks website. WikiLeaks revealed that a "denial of service" attack that temporarily shut down the website used a network of "zombie" computers, which were infiltrated by the hackers.
WikiLeaks is now battling for its survival. Amazon, which hosted the website, refused further access to its servers last week. A site that provided WikiLeaks with its domain name, EveryDNS.net, also cut off its service because it said it was being inundated with sabotage attacks.
Some of the contingency plans were revealed when the site re-emerged on Friday with a Swiss address, WikiLeaks.ch. The new name was provided by the Swiss Pirate party, which champions internet freedom. Assange has also set up contingency servers in Sweden.