White House slams Google, calls on it to abandon China search project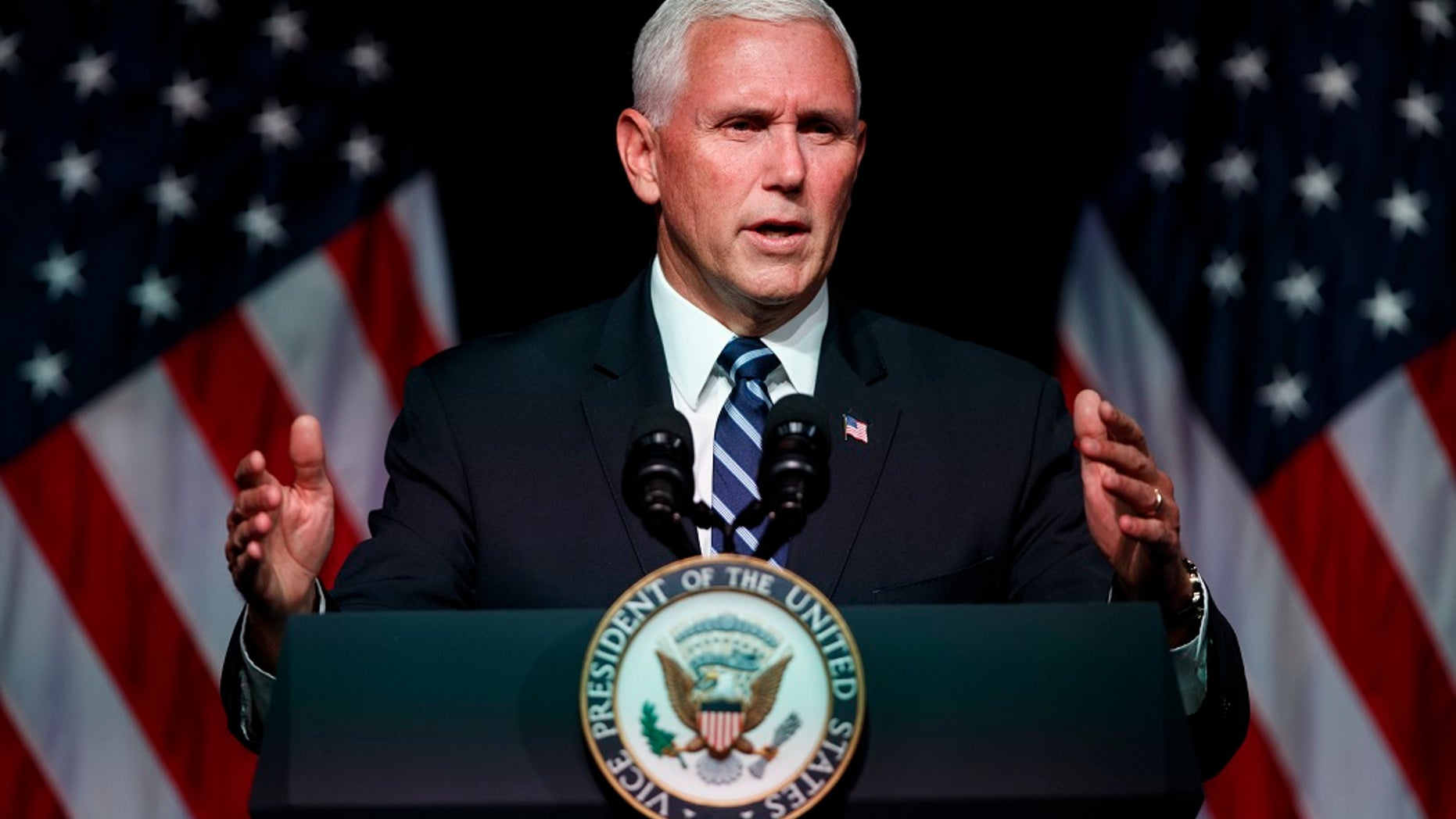 Vice President Mike Pence slammed Google and called on it to abandon its controversial Project Dragonfly search initiative, which would see the company potentially re-enter China. Pence said the move would "strengthen Communist Party censorship and compromise the privacy of Chinese customers."
In remarks made at the Hudson Institute on Thursday, Pence specifically called out Google, led by CEO Sundar Pichai, and said it should abandon the project.
"More business leaders are thinking beyond the next quarter, and thinking twice before diving into the Chinese market if it means turning over their intellectual property or abetting Beijing's oppression," Pence said in his prepared remarks. "But more must follow suit. For example, Google should immediately end development of the 'Dragonfly' app that will strengthen Communist Party censorship and compromise the privacy of Chinese customers…"
GOOGLE IS FINED $5B BY EU IN ANDROID ANTITRUST CASE
This is not the first time Google has come under fire from the Trump administration for its practices. The company has been accused of having an anti-conservative bias, an allegation the company has denied. President Trump accused Google of "snubbing" his 2017 address to Congress, a claim the company heavily refuted, adding it does not historically promote "the first address to Congress by a new President, which is technically not a State of the Union address." It added it did not do this in 2009 for President Obama.
When reached for comment by Fox News, a Google spokesman said they company did not have anything to add.
Google's rocky history in China
Rumors of the Chinese-based search engine have circulated over the past several weeks after The Intercept reported that it had seen leaked documents, suggesting the Pichai-led Google was planning to re-enter China, nearly 8 years after leaving the country.
The search engine, which would be app-based, would remove items that contain certain words or phrases and would apply to image search, suggested search features and automatic spell check. It would also "blacklist sensitive queries" so no results are shown when a person looks for a specific word or phrase, The Intercept added.
The app will also identify topics and websites that are blocked by China's Great Firewall, according to the documents. According to The Intercept, examples that will be censored include British broadcaster BBC and Wikipedia.
In 2010, Google famously announced it was leaving China, specifically mentioning China's censorship tactics as a reason for pulling out of the country.
However, Pichai has said he wants Google to be in China serving its internet users. Pichai became Google's CEO in 2015, taking over from co-founder Larry Page who became CEO of Alphabet, the holding company that owns Google.
HOW TO FIND AND DELETE WHERE GOOGLE KNOWS YOU'VE BEEN
Project Dragonfly fallout
The prototype search engine, which would be app-based, reportedly links users' searches to their personal phone numbers—therefore making it easier for the Chinese government to monitor its citizens' queries.
In August, Google employees revolted over the controversial project, with more than 1,000 of them writing a letter to company management expressing their displeasure with the proposed search engine. Employees demanded that the company be more transparent about its decisions, and the letter also calls the project's ethics into question.
In addition to further transparency, the letter asked management to satisfy four conditions regarding ethics and transparency:
1. An ethics review structure that includes rank and file employee representatives
2. The appointment of ombudspeople with meaningful employee input into their selection
3. A clear plan for transparency sufficient to enable Googlers an individual ethical choice about what they work on; and
4. The publication of "ethical test cases"; an ethical assessment of Dragonfly, Maven, and Airgap GCP with respect to the AI principles; and regular, official, internally visible communication and assessments regarding any new areas of substantial ethical concern.
REPORT REVEALS GOOGLE IS TRACKING YOU IF YOU LIKE IT OR NOT
Following the letter from its own employees, more than a dozen human rights groups sent a separate letter, calling on the search giant to abandon its controversial initiative. Organizations such as Amnesty International, Human Rights Watch and Reporters Without Borders wrote to CEO Pichai that complying with Chinese censorship would represent "an alarming capitulation by Google on human rights."
"The Chinese government extensively violates the rights to freedom of expression and privacy; by accommodating the Chinese authorities' repression of dissent, Google would be actively participating in those violations for millions of internet users in China," the letter said.
And just last month, several employees reportedly quit their jobs over the project, citing a lack of accountability and transparency at the company.
Fox News' Christopher Carbone contributed to this report. Follow Chris Ciaccia on Twitter @Chris_Ciaccia