Where to Get the Most Value for Your iPad 2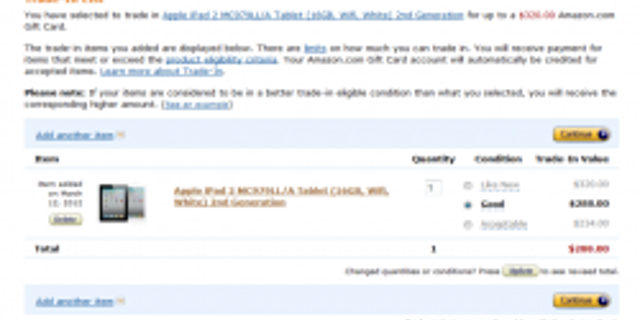 As Apple prepares to release the new iPad, owners of older-generation iPads are looking to sell theirs back and upgrade. Several online retailers offer buy-back programs, but keep in mind that retailers are only buying back models that are in near-perfect condition.
Through Amazon, you can expect to get a maximum of $320 for a 16GB model, $375 for a 32GB model and $445 for a 64GB model. If your iPad 2 is also 3G, you can get up to $385, $410 and $500, respectively. Although this seems to be the best deal currently, Amazon doesn't offer cash with its buy-back program; you can only get store credit. Some see this as Amazon's scheme to promote their Kindle Fire instead of the new iPad, since the retailer probably won't sell Apple's newest product.
eBay's buy-back program doesn't give back as much value as Amazon's, but you get the most cash for your products, provided you have a PayPal account. For 16 GB, the online store is giving $290 ($355 for 3G); $340 for 32GB ($380 for 3G) and $420 for 64GB ($475 for 3G).
Interestingly, GameStop is giving Verizon models an average of $50 less than AT&T models. Owners can estimate getting $250 for 16GB ($300 for 3G), $300 for 32GB ($350 for 3G) and $340 for 64GB ($400 for 3G). Note: These prices apply only to those willing to take store credit; if you want cash, you'll have to accept up to 20% less.
Best Buy offers $250 for a 16 GB model ($300 for 3G), $300 for 32GB ($350 for 3G) and $340 for 64GB ($400 for 3G). The retailer, like Amazon, gives a store gift card instead of cold, hard cash.
The retailer winning the lowest value given for your iPad 2 is Gazelle. For a 16GB model you'll only score $185 ($230 for AT&T 3G), $225 for 32GB ($250 for AT&T 3G) and $255 for 64GB ($300 for AT&T 3G). But you can redeem your cash in gift card format, through check or PayPal.
Each buy-back program has its pluses and minuses, but at least there are options so you can figure out whether you'd rather get a loaded gift card or a little less in cash.