UK clamps down on prison drug drones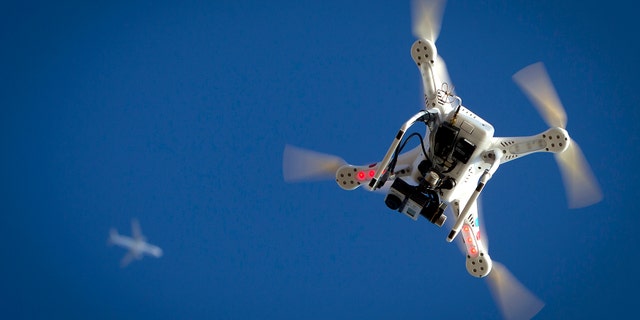 If you're the person who's been guiding the drones that have been dropping cellphones and drugs into prison yards in England and Wales, now would be a great time to stop.
Or, if you can't stop, now would be a good time to go underground, because officers of the law would like to have a few words with you. And those words are "you're under arrest."
The British prison service and police announced Monday that they will pool their intelligence to find out who is flying the drones, which they say are increasingly being used to deliver contraband to prisoners.
WATCH A POLICE EAGLE TAKE DOWN A DRONE
"We are absolutely determined to tackle the illegal flow of drugs and mobile phones into our prisons and turn them into places of safety and reform," Prisons Minister Sam Gyimah said, according to a BBC report.
"The threat posed by drones is clear, but our dedicated staff are committed to winning the fight against those who are attempting to thwart progress by wreaking havoc in establishments all over the country.
"My message to those who involve themselves in this type of criminal activity is clear: We will find you and put you behind bars."
WOMAN BRANDISHES GUN, SCARES OFF DRONE
But critics of the initiative, said to cost an estimated 3 million pounds ($3.78 million), say the initiative is an unrealistic solution to what may not be a big problem, after all.
"I have seen no evidence that there is a real problem with drones," said John Podmore, former head of the Prison Service's anti-corruption unit. "I think the number of incidents last year was 33.
"There are some 10,000 mobile phones found every year in prisons. My question to the Prison Service would be, how many of those were found hanging from drones?"
FOR THE LATEST TECH FEATURES FOLLOW FOX NEWS TECH ON FACEBOOK
Mike Rolfe, national chair of the Prison Officers Association, agreed. Though he acknowledged that prisoners told him they were seeing two or three drones a night delivering packages over the walls, he agreed with Podmore that the initiative was an attempt to distract people from "the real issue [of] jails in complete chaos, in a crisis and flooded with drugs, mobile phones and weapons."
Podmore said a better solution would be to look at the wider issue of smuggling contraband into prisons, including the "main route [of] staff corruption."