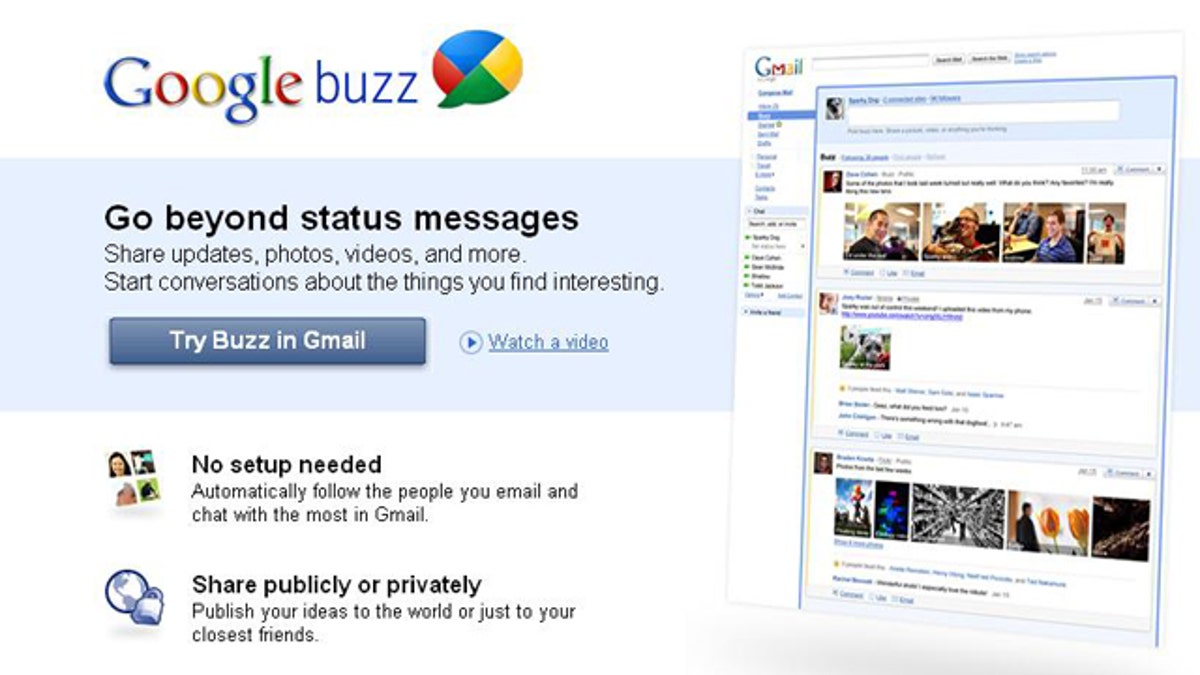 From Facebook to MySpace to Twitter to LinkedIn and beyond, the Web circa early 2010 is a surging sea of social networks. The last thing it needs is yet another one to discover, join, and use. Especially since any social network is only interesting if the people you care about are also active members.
But what if someone took the Internet's original social network -- the pals, family members, coworkers and acquaintances in your e-mail address book -- and turned it into a Twitterlike way to quickly share your whereabouts, thoughts, links, photos, and more, either publicly or privately?
Enter Google Buzz, which the Web behemoth rolled out last week. Rather than starting out as an all-new service, Buzz is debuting as a feature inside Gmail, making it instantly available to tens of millions of people. Gmail users get a link right under their inbox, letting them post to Buzz and peruse others' activity right from within Gmail's familiar environs. Interacting with people you're already in touch with via e-mail is especially easy.
It's a powerful idea. In fact, as Google discovered when Buzz came under instant attack as a threat to Gmail users' privacy, it might be too powerful.
What's good about Buzz is downright terrific. Unlike Twitter, it imposes no 140-character limit to get in the way of expressing yourself. Like Facebook's Wall, if you paste a link to another Web site into a post, Buzz adds a summary to your post, complete with images. The photo-sharing feature, which works with images you upload directly into Buzz as well as Flickr and Picasa albums, is stupendously slick and simple. And you can make any post public or restrict it to a group of people you specify -- "Family Members," say, or "College Buddies."
Buzz is also available on wireless phones: Apple's iPhone and models that uses Google's Android software at first, with more to come. This mobile version, which resembles services such as Foursquare and Gowalla, uses your phone's GPS and Google Maps' mammoth database of local businesses to figure out where you are. That makes it a snap to share opinions about restaurants, stores, and other establishments.
Here's where things got controversial. Google thought it would do new Buzz users a favor by helping them find other Buzz users to follow, so the service would be instantly useful. It did so by automatically making newbies followers of the people they contacted most via Gmail and the Google Talk chat service.
Handy, right? Sure -- but in Buzz, your list of followers is public unless you choose to conceal it, or don't create a public Google Profile at all. That wasn't entirely clear. And Google didn't anticipate that some people might be sensitive about a list of their closest Gmail confidantes being openly available. The most striking real-world example: One blogger with an abusive ex-husband realized that her former spouse could use Buzz to identify who she was in contact with.
In many cases, however, having information about your Gmail activity become public was no big whoop. My only gripe about the initial list that Buzz created for me was that it wasn't very relevant: It consisted mostly of business contacts who I had no particular desire to keep tabs on. Oh, and my mom. If she so much as touches Buzz, I'll eat my keyboard.
The alarm over Buzz's autofollowing feature seemed to take Google by surprise. (It had tested the new service mostly by using it internally, not by letting a small group of Gmail users try it out.) To its credit, the company moved swiftly. Two days after it unveiled Buzz, it tweaked it to make it easier to hide the list of people you were following. It also permitted users to block any person from following their activity on Buzz.
When that didn't calm everyone down, Google went further by terminating the autofollowing process altogether. Instead, it now suggests people from your Gmail contact list: You can follow all of them, none of them, or pick and choose. The company also patched up some other potential privacy leaks, such as Buzz's auto-publishing of users' Picasa and Google Reader activity. (It had only been publishing items that were themselves public, but it turned out that some folks didn't like Buzz connecting the dots between multiple Google Services.)
Even without any security leaks, Buzz feels like a rough draft. When an old post gets new comments, it rises to the top of your list -- which sounds logical, but leaves you reading popular posts over and over. It uses a yellow stripe to highlight new comments, but it's so subtle that it's easy to miss. The service also puts Buzz discussions it thinks you'll want to read directly in your Gmail inbox, but gives them cryptic subject lines. Bottom line: It's often tougher to find interesting stuff than it should be.
And although you can tell Buzz to automatically grab and republish your 140-character Twitter tidbits, it does so at an amazingly sluggish pace. One item I posted on Twitter took nine hours to make its way over.
Like I say, though, there's much that's already nifty about Buzz. I hope that its bumpy start doesn't permanently damage its reputation, and that Google continues to refine it at the same rapid clip it's established so far. I'm having fun Buzzing at www.google.com/profiles/harrymccracken -- stop by and say hi if you're so inclined.
Harry McCracken blogs at Technologizer, his site about personal technology. He's also the former editor in chief of PC World. Follow him on Twitter as @harrymccracken