The 5 Best Apple iPad Apps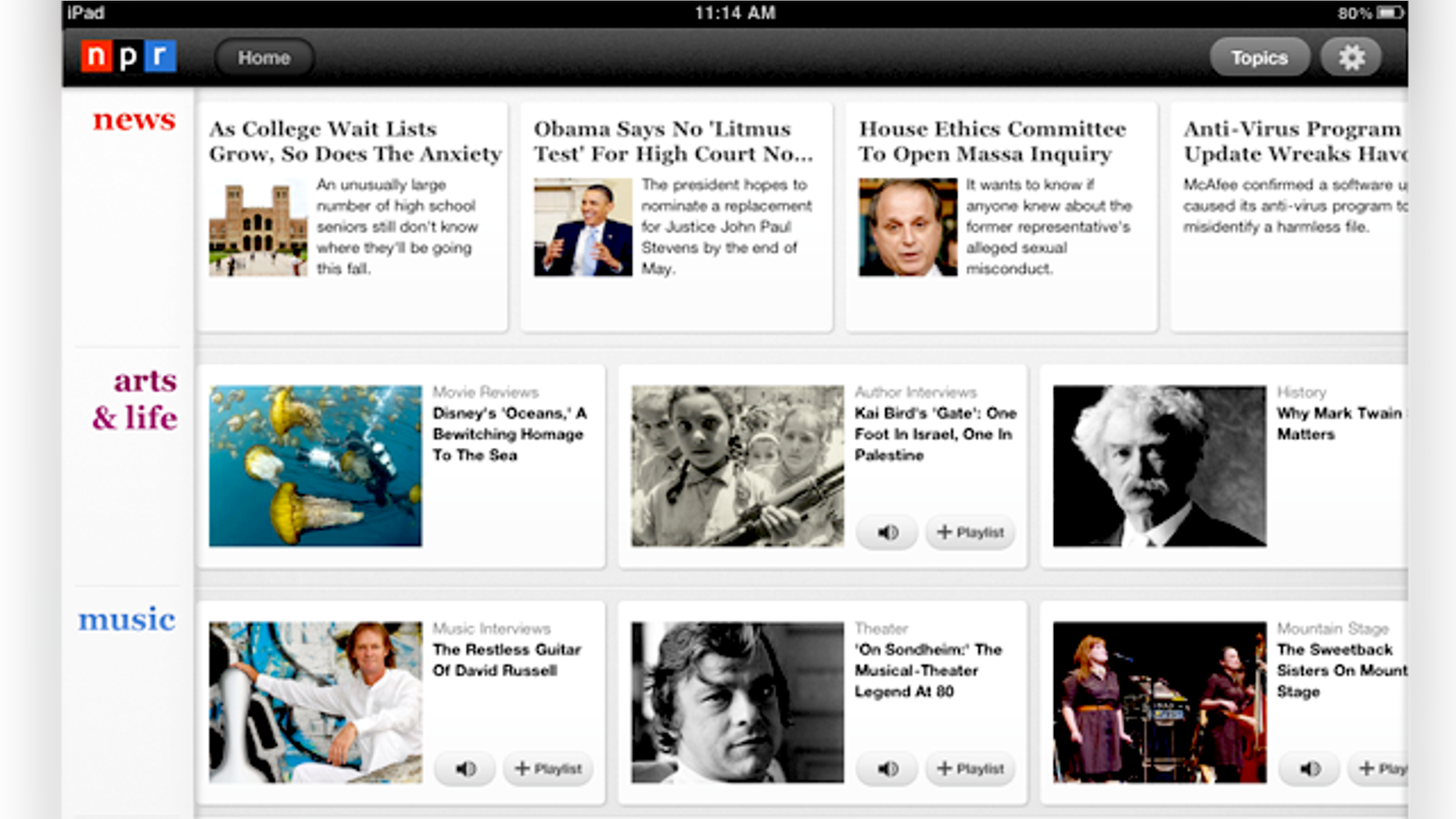 The iPad consensus is clear: Apple's cool new tablet is a hit. But which apps should you install to get started with the fun? Here's my five favorites, which should be a great launching pad for you.
Those who are using the iPad have no doubt noticed that the choice of iPad-specific applications is thin. There are just over 4,000 for the iPad compared with 160,000 for the iPhone.Fear not! It's still early and many of the developers I've spoken with say they wanted to take their time to develop quality applications.
In the meantime I've settled into a routine with my Wi-Fi iPad and found that, like my iPhone, I'm using a few applications multiple times a day. Here are my five favorites so far:
News Rack ($4.99)
I consume a boatload of news, and News Rack is a full-featured RSS feed reader with a great interface. It lets you skim the latest headlines from a pre-stocked list of periodicals or build your own list. I rely on Google Reader for my news feeds, and News Rack pulls all of those feeds right into the app.
This app has the best sharing features of any RSS feed reader as well. Share with e-mail, Twitter, Delicious and Instapaper. With my iPad in landscape mode I can scan the headlines in the right column and read the article in the left column. And there's no need to leave the app to watch video.
Words with Friends ($2.99)
It's a guilty pleasure to be sure. Over the past few months, I've grown addicted to the free iPhone version of Words with Friends and jumped at the chance to try the more polished iPad version. The developer calls it a crossword game but I call it a Scrabble rip-off that you play with your friends. It's social gaming at its finest.
The premise is simple: just challenge a friend to a game and take turns applying dictionary skills as you get rid of your lettered tiles. You can play at your own leisure and trash talk with a built-in chat feature. Turn on push notifications so you can see when your friend completed her turn. I have five different games going at once right now, two with Fox and Friends viewers, one with my girlfriend, one with my mom, and one with a sister. And I'm losing all five games!
Kindle (free)
Amazon did a smart thing, leveraging the Kindle brand across multiple platforms. The Kindle app for the iPad is just a natural fit. While I love the design of Apple's iBooks app, the Kindle app offers me the one thing iBooks can't: saving highlights in the cloud. I take a ton of highlighted notes in the books that I read and Amazon stores those on its website for later browsing at www.kindle.amazon.com. Also, Amazon is saving me money on book purchases. I wanted to read Tribes by Seth Godin: $9.99 on Amazon vs $14.99 on iBooks.
Evernote (Free)
Maybe you're like me and you have trouble remembering stuff. That's where Evernote comes in. Keep track of just about everything you can think of, from photos and recipes to notes and voice memos, all stored across Evernote's fully searchable platform and available for iPhone, Windows, Mac, Android and now iPad (in a truly their beautifully designed app).
If I create a to-do list note on my home computer and save it to Evernote I can read it later, make changes and basically carry a back-up brain on my iPad. There are endless ways to use Evernote -- watch the company's demonstration videos for just a few ideas.
NPR for iPad (Free)
With this app NPR did the impossible, turning sometimes boring content into an addictive experience. Every news organization should sit down and spend a few minutes playing with NPR's highly polished app for the iPad. The company hit a home run with a magazine style-design that lets the user browse stories, add audio interviews and long-form stories into a playlist, and play them in any order.
The other night I found myself listening to a report about the war in Afghanistan followed by what I thought would be a boring report on tea leaves. The tea story was better.
Clayton Morris is a Fox and Friends host and the tech godfather behind the Gadgets and Games show. Follow Clayton's adventures online on Twitter @ClaytonMorris and by reading his daily updates at his blog.