Scientists solve mystery of 'bloody' waterfall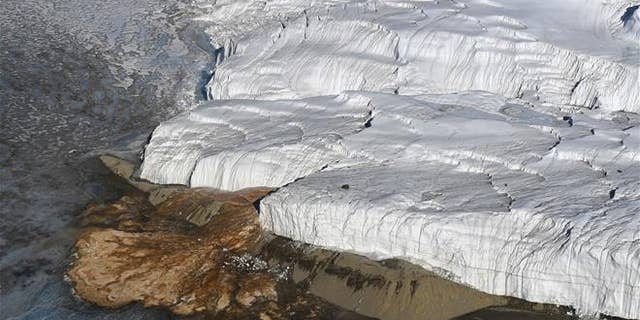 NEWYou can now listen to Fox News articles!
The only thing that has moved slower than Taylor Glacier is progress on solving a 100-year-old mystery about the famous red waterfall nearby—until now. Since 1911, when a scientist first stumbled across Antarctica's Blood Falls, researchers have been scratching their heads about a flow of salty water leading from the glacier to what Atlas Obscura refers to as the "five-story, blood-red waterfall." But a study published in the Journal of Glaciology may have unearthed what's behind this "englacial hydrologic system" fueling the falls.
The direct reason for why the water is red isn't what's been perplexing us: A press release explains that the water plummeting over the side is filled with iron, which causes the brine to turn red when it makes contact with oxygen.
It's where this brine is coming from, however, that has remained an unknown. That is, until scientists from the University of Alaska Fairbanks and Colorado College set to work with radar gear and found evidence of lots of salty water buried beneath the glacier, perhaps for up to 1 million years.
Much like the echolocation used by bats, the technique the scientists used to send and receive electrical signals in "grid-like patterns" through the glacier's ice led them to a find previously thought impossible: flowing liquid water existing in a frozen glacier.
Co-author Erin Pettit explains that "water releases heat as it freezes," which melts surrounding ice and lets the salty water (with a lower freezing temperature) flow.
The discovery now opens the doors to "understanding the role of liquid water—salty or fresh—in other extremely cold glaciers or permafrost environments," co-author Jessica Badgeley adds, per a Colorado College press release.
(This Yosemite "firefall" appears once a year.)
This article originally appeared on Newser: Scientists Figure Out Mystery of 'Bloody' Antarctic Waterfall