Ralph Lauren unveils high-tech shirt at US Open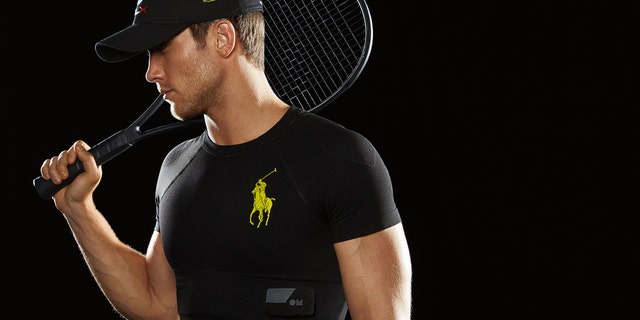 At this year's U.S. Open, apparel giant Ralph Lauren and Canada-based biometrics firm OMsignal have joined forces on their own kind of doubles team – bringing biometric technology and fashion to the tennis court. During the tournament's opening day this week, the two companies revealed the Polo Tech shirt, a sleek black compression shirt that sports more than just that iconic polo player logo. Within the fabric are small silver yarn-based sensors that measure the wearer's activity and transmit that information directly to a Bluetooth-connected smartphone.
Still in its prototype phase, this fashionable active wear will hit stores early next year, and its creators see this as one example of the many "smart clothing" items they believe will soon be finding their way to daily life.
"We see waves of innovation that will make smart clothing ubiquitous and embedded in an infinite number of potential form factors," OMsignal CEO and co-founder Stephane Marceau told FoxNews.com. "Smart clothing will become a baseline expectation, like electricity. You'll buy a shirt, tie, bra or socks and you will simply expect it to be a connected device that helps you live a fitter, healthier, happier life."
As the official outfitter of the tennis tournament, Ralph Lauren chose OMsignal – a company that employs an interdisciplinary team encompassing neuroscientists, software engineers and fashion designers – to develop this kind of wearable tech that would also blend in seamlessly with the clothing company's aesthetic.
"Our goal is to create and reflect the ultimate lifestyle, and we believe that a healthy and active life is an essential part of that," said David Lauren, Ralph Lauren's son and the company's senior vice president of adverting, marketing and public relations in a press release. "Ralph Lauren is excited to help lead the industry in wearable technology in this ever-evolving, modern world."
The rather unlikely collaborators have learned from one another's business practices, according to Marceau.
"Being tech entrepreneurs, we have witnessed the importance of creation and design and storytelling from the makers of an iconic brand," he said. "Clearly a lot of what we do does not fall neatly in all the usual processes of a large and global fashion company, but the (Ralph Lauren) team's overall commitment to innovation, coupled with clarity of vision from their leadership, made it possible for us to collaborate on a breakthrough prototype in an accelerated time frame."
After working out the tech specifications, OMsignal sent a team of engineers, product developers, and scientists from Montreal to New York to consult with the Ralph Lauren team as they put the finishing touches on the shirt design.
The shirt is more than meets the eye. While it looks like most other kinds of athletic wear, it has a thick band that rests right below the chest. The band holds a Bluetooth transmitter, a gyroscope, and an accelerometer. Among its measurements, the shirt records heart and breathing rate, how many steps the wearer has taken throughout the day, and even the "effort" level of a person's workout.
While the shirt won't be worn by the likes of Roger Federer at this year's U.S. Open, several ball boys will sport the wearable tech during select matches over the course of the two-week tournament. Marcos Giron, the top-ranked Intercollegiate Tennis Association singles player, also wore the shirt during practices for his first run at the tournament.
After some adjustments that will take it out of the prototype phase, the shirt will have its first official launch in stores early next year.
Marceau can't release specific details on any adjustments that might be made to the shirt as it leaves the prototype phase, but said that the final product will be "awesome cool."
The shirt might be high-tech, but Marceau said clothing has always been one of the most durable – and versatile – forms of "technology."
"Clothing is the only 'wearable' we have all been wearing our entire life."