Radar 'blimps' to monitor Washington-area skies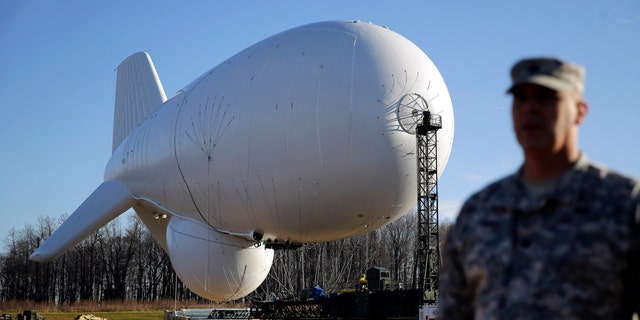 NEWYou can now listen to Fox News articles!
The first of two radar-detecting blimps is slated to rise up over Aberdeen Proving Grounds in Maryland on Friday as part of a three-year exercise testing the integration of an Army air surveillance system with the North American Aerospace Defense Command.
The 80-yard long, radar-fitted surveillance balloons, floated to an altitude of up to 10,000 feet, are intended to pinpoint beyond-the-horizon targets such as incoming enemy missiles, aircraft or drones.
A second balloon, technically aerostats because they're tethered and do not float or maneuver independently in the sky, is expected to go up by the end of January.
One of the two is engineered with VHF radar technology capable of scanning outward to a distance of about 500 kilometers, a Raytheon official and director of the Army's Joint Land Attack Cruise Missile Defense Elevated Netted Sensor System, JLENS, told Defense Tech in June.
The radar scans 360-degrees and is designed to identify targets or areas of interest for the second aerostat, which uses more precise X-band radar, Douglas Burgess said.
NORAD, which announced the Friday launch last week, said data collected during the operational exercise will be used to determine how well JLENS capabilities work with the existing NORAD security architecture.
"This will enable senior defense officials to support a determination whether to transition JLENS capabilities to an enduring mission at the conclusion of the three-year operational exercise," the announcement said.
Writing about the program in DefenseOne on Tuesday, technology editor Peter Tucker suggests the Defense Department's air security focus may be more on drone threats these days than anything else.
He notes that a "hobbyist and activist" netted a warning from federal officials to keep his drones out of DC skies after a near miss involving one of his camera-toting devices.
While many who see a giant blimp may automatically recall ancient film images of the Hindenburg's fiery crash in New Jersey, the JLENS systems are a whole different kind of balloon.
"They are filled with helium and air, which are inert gases that do not burn," NORAD stated. "In 35 years of testing, a tether break has never occurred. During the exercise, great care is being taken to protect [Aberdeen's] sensitive wetlands, flora and fauna – in particular the bald and golden eagles – both during site construction and during the exercise. "
Privacy advocates will be happy to know that – according to NORAD – the surveillance balloons are not equipped with spy gear.
"The JLENS aerostats cannot see people and do not have cameras onboard," NORAD said.