Paul Allen's death sparks reactions from the NFL, Microsoft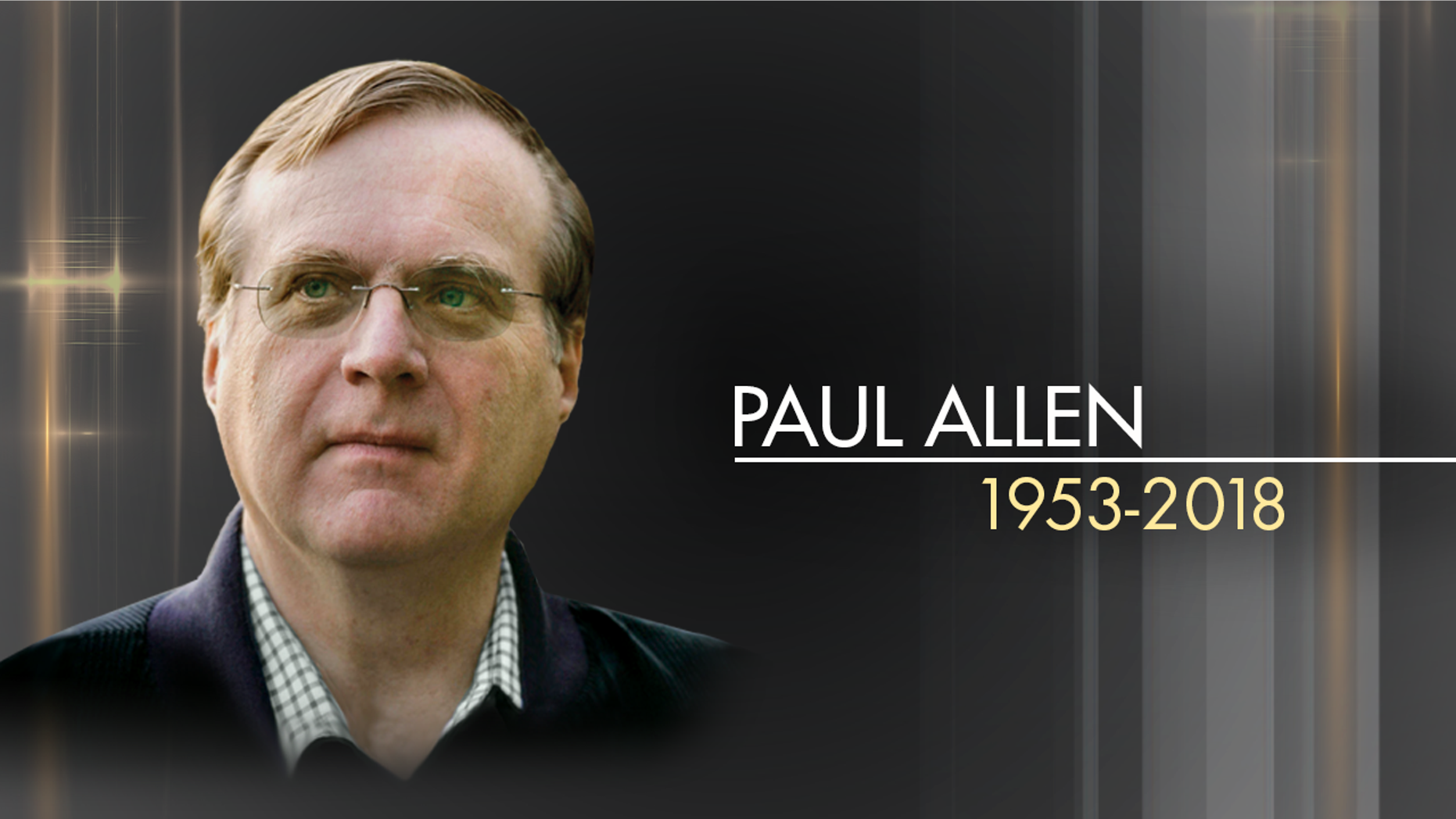 Both the tech and sports worlds took to Twitter to remember Microsoft co-founder and Seattle Seahawks owner Paul Allen after he died on Monday from complications of non-Hodgkin's lymphoma.
Allen passed away in Seattle, his family said. He was 65.
Vulcan, the company Allen founded, mourned his passing by tweeting about its "deep sadness."
"All of us who worked with Paul feel an inexpressible loss today," the company said in a statement.
Microsoft also shared a statement from its current CEO, Satya Nadella.
"Paul Allen's contributions to our company, our industry and to our community are indispensable," Nadella said. "As co-founder of Microsoft, in his own quiet and persistent way, he created magical products, experiences and institutions, and in doing so, he changed the world."
The National Football League also said it was "saddened" to share news of Allen's death.
The NBA team Allen owned, the Portland Trail Blazers, also tweeted about the news.
"We miss you. We thank you. We love you," the team said in a message when sharing a black-and-white image of Allen.
Seattle Seahawks coach Pete Carroll took time on Twitter to praise Allen on Monday.
"The world is a better place because of Paul's passion, commitment, and selflessness," he wrote. "His legacy will live on forever."
Former Seattle Seahawks player Marshawn Lynch offered a Twitter tribute to Allen.
"Big dog rest easy as you go home @PaulGAllen prayers for your family," he wrote.
The NFL Communications department also shared a statement from the league's commissioner, Roger Goodell.
"Our league is better for Paul Allen having been a part of it and the entire NFL sends its deepest condolences to Paul's family and to the Seahawks organization," he said in part.
The Twitter accounts for the Denver Nuggets and the Miami Heat also offered their condolences.
Apple CEO Tim Cook offered his thoughts on the social media platform, as well.
"Our industry has lost a pioneer and our world has lost a force for good," he tweeted. "We send our deepest condolences to Paul's friends, the Allen family and everyone at Microsoft."
Google CEO Sundar Pichai, thanked Allen "for your immense contributions to the world through your work and your philanthropy."
NBA Commissioner Adam Silver called Allen "the ultimate trailblazer" in a statement posted online.
"As one of the longest-tenured owners in the NBA, Paul brought a sense of discovery and vision to every league matter large and small," he said.
Steve Ballmer, the former CEO of Microsoft, honored Allen, calling him "a truly wonderful, bright and inspiring person—- and a great friend."
Washington Gov. Jay Inslee tweeted that Allen "stands as a giant in Washington history for the genius vision that was so important to creating Microsoft with Bill Gates."
The Democrat said he and his wife, Trudi Inslee, "join people all over the world in sending our thoughts to Paul Allen's family and friends."
Rep. Dave Reichert, R-Wash., called Allen "an institution in WA & around the world for his work redefining modern technology but also his kind heart and extensive philanthropy."
Salesforce co-founder Marc Benioff tweeted that Allen was "a great leader in tech and a man of all seasons who fully enjoyed his life and wealth yet also gave back to the world at scale."
Indianapolis Colts owner Jim Irsay also spoke out about Allen's death on Twitter.
"A giant who was as humble and generous as they come, and so respected as a fellow NFL owner," he wrote. "Rest in peace, Paul."
Fox News' Nicole Darrah contributed to this report.