On the Frontlines -- From 8,000 Miles Away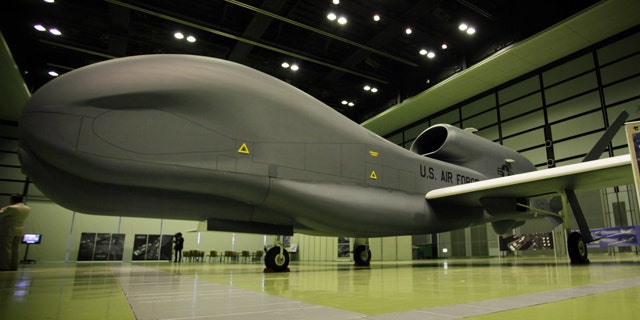 Machines are changing the face of battle: Robots and unmanned aircraft have made engaging a target much safer and far more efficient. But is there a danger in relying too much on technology?
"High Tech Warriors on the Battlefield" airs Sunday, April 11 at 9 p.m. on Fox News
The success of drone strikes in Pakistan and Afghanistan has battered Al Qaeda and the Taliban. Since January 2009 they have killed between 400 and 500 militants. These strikes are reported to come from unmanned aircraft (often called drones), which may lead you to believe that nobody's behind the wheel. You couldn't be more wrong.
While filming "War Stories with Oliver North: High Tech Warriors on the Battlefield," which airs Sunday, April 11 at 9 p.m. on Fox News, I was given the opportunity to travel to Creech Air Force base in Nevada with Oliver North and co-producer Steven Tierney.
Creech is one of a number of bases in the United States flying missions in Afghanistan and around the world. While there, we got to meet the people behind the drone missions -- and wow are there a lot of them. Like most people, I didn't realize how many personnel it actually takes to fly and upkeep these planes.
We spoke with Col. Peter Gersten, the 432nd wing commander for operations at Creech. When asked about unmanned aircraft Gersten bristled. He calls them RPAs, or remotely piloted aircraft.
"It's not a drone, it doesn't fly by itself," he pointed out. "I get a little concerned because of the amount of manpower that it actually takes to operate the system … you're looking at somewhere around 50 Air Force individuals. Any given time for a 24-hour period, it'll take around five to seven crews, and a crew consists of three people, a pilot, a sensor operator, and a mission intelligence coordinator. So there's 30 people right there. Then you strap on the maintenance portion of that -- another 20 to 30 maintainers that keep that aircraft going -- and right away you're at 50."
Clearly, it's not as simple as pushing a button and letting the plane go on its way. Call them UAVs or RPAs, it still takes a group of very dedicated and talented people to execute high priority missions all over the world with the aircraft.
During this visit, we were given access to a classified area we could observe but not film. A dark room full of screens with computers lining the walls, it's where the intelligence gathered from the planes is analyzed. That information is distributed in order to build intelligence, make surveillance and reconnaissance more effective for the soldiers on the ground, and help save lives.
Creech maintains operations 24 hours a day, 7 days a week, 365 days a year, and everyone takes the job very seriously. They realizes that the analysis they do today is critical to the men and women on the ground tomorrow over 8,000 miles away.
While at Creech, I wondered how this type of warfare was changing the way we think about combat. Unlike the soldiers in the field, these airmen could go home to their families after their 8-hour shift ends. But they are very much affected by what they see and hear during a mission.
"There have been a couple of times where we've been supporting the ground units, and able to hear what they're saying, especially when we get in times of trouble," reminisced sensor operator Tech Sgt. Jarrett Miner. "I suppose I do think about that a little bit, that I get to go home and sleep in my own bed at night. And they're out there doing their job."
They may go home after a shift, but the job these airmen perform is invaluable and in no way taken lightly. Mission Coordinator Staff Sgt. James says that as soon as he steps onto the base, things change.
"As soon as you cross over what we call the cheese graters on base, the bumps in the road, your mindset is completely different from when you were just at home. You're going to combat. You're watching what they see eighteen inches from the battlefield. And it's just an incredible experience overall."
No matter how far away from the actual battlefield these men and women are, the endurance and talent of these remote warriors is on display every day. Their mission is to help save the lives of our troops on the ground, and no one can dispute their importance and commitment to fighting this war on terror.