Official Twitter Button Due Thursday, Leaked Docs Suggest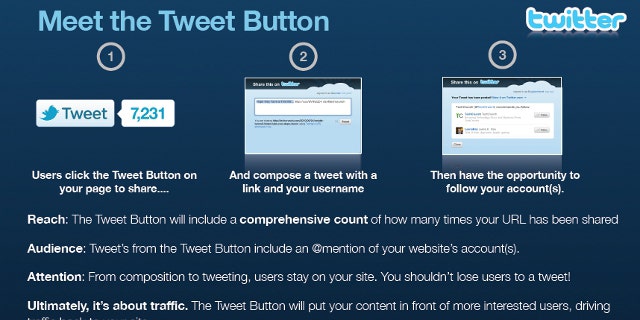 Facebook "Recommend" buttons cover the web like a fungus. Now Twitter appears poised to unleash an official social button of its own.
Tech news site Mashable.com has uncovered confidential documents from the micro-blogging site Twitter that indicate plans to launch an official "Tweet" button, similar to the Recommend button from Facebook that's visible pretty much everywhere online. You can find one at the top of this story, for example.
Click the Tweet button and you can easily share a link to the story with your friends and followers on Twitter. The service could launch as early as Thursday, a Mashable editor revealed.
"It should be tomorrow, that's what I've been told," Ben Parr, co-editor of Mashable.com, told FoxNews.com.
A simple line of code lets the button show up on a publisher's website, providing a mechanism to send a story link over the service and show how many others have distributed the story -- a handy measure of its popularity.
"We're still diving into the details, but from what we can tell, the Tweet Button is designed to be the most comprehensive counter of retweets and shares across Twitter's network," Parr said.
Because the service would be tied directly to Twitter's servers, it would be more accurate than other third-party services with similar functionality -- and should drive traffic back to the original site, the documents claim.
"The Tweet Button will put your content in front of more interested users, driving traffic back to your site," the documents state.
Several services currently exist that offer one-button access to Twitter, notably ReTweet and the more popular TweetMeme. An official button directly from Twitter would obviously be a problem for such third-party services, fueling speculation that the two companies are poised to announce a deal.
"It would shock me if the two haven't talked extensively," Parr told FoxNews.com, describing the alternative as a "blindside" that wouldn't fit with the company's standard mode of operation.
Both Twitter and TweetMeme declined to comment on the rumors.
Parr reports that he successfully added the yet-unreleased button to his website, but the functionality doesn't work properly yet. "According to our sources, only a few accounts currently have that ability activated," he wrote.
"Only beta testers have access to the actual shared functionality. It's their way of making sure it's not rolled out to everyone yet," he explained.
The code can be added to any website. There are three versions of the button (110×20, 55×20, 55×63) with five different settings for customization. Keep an eye out for it on websites everywhere Thursday.