Nokia to Return to U.S. with Lumia 710 Smartphone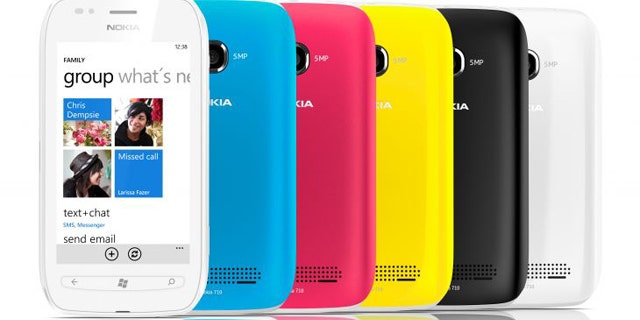 ESPOO, Finland – Nokia is gearing up to introduce the U.S. to its first smartphone powered by Microsoft's latest Windows software, an attempt by the Finnish handset maker to break into the lucrative American market.
The debut will come next week when T-Mobile USA plans to announce that it will distribute the device, called the Lumia, at an event it is co-hosting with Nokia in New York, a person familiar with the matter said Friday.
The Lumia 710, which retails for €270 ($362) in Europe, went on sale in select countries in November. Nokia has not disclosed what the phone will cost in the U.S. or which carriers will offer service for it.
Few are expecting Nokia to quickly threaten Research In Motion (RIM), whose market share ranks a distant third to phones run off of Google's Android operating system and Apple's iPhone. RIM's large number of established BlackBerry users -- and the logistical and cost hurdles of switching services -- give the Ontario company "advantages over [Nokia and] Microsoft," says Gartner analyst Hugues de la Verne.
But the BlackBerry maker has stumbled badly this year and is now seeing falling phone shipments and a tumbling market share.
That has provided a window of opportunity for Nokia, which despite being the world's biggest cellphone maker has just one percent of the U.S. market and is struggling to turn around its own falling sales.
Nokia ousted its chief executive last year, and in February struck a partnership with Microsoft to power its next-generation smartphones.
Chris Weber, Nokia's U.S. head, said the company is committed to spending heavily to market the new phones in 2012. He did not give details about marketing and carrier-partnership plans. AT&T has said it is in discussions with Nokia to carry the Windows smartphones next year. A spokesperson for AT&T declined to comment.
Weber said the company wants to target first-time smartphone users. But Nokia executives say they are also going after the corporate customers that have long been toting BlackBerrys.
"There's a very substantial business opportunity with these devices, and Microsoft and Nokia together are going after that market," Nokia's Chief Executive Stephen Elop said in a recent interview.
Elop said the new phones also offer search and advertising capabilities, music, gaming and location-based services that can compete with Android and Apple. "Between ourselves and Microsoft, we deliver a third ecosystem," he said.
RIM declined to comment on the competitive threat that Nokia poses in the U.S.
RIM has promised its own next-generation phone, which it says will be run off a new operating system. RIM has not given a launch date. Analysts who had been expecting an early 2012 rollout are now looking at the second half of the year.
Read more about Nokia's new Windows phone at the Wall Street Journal.