New Surface Pro keeps best of Pro 4, improves where it counts: hands-on review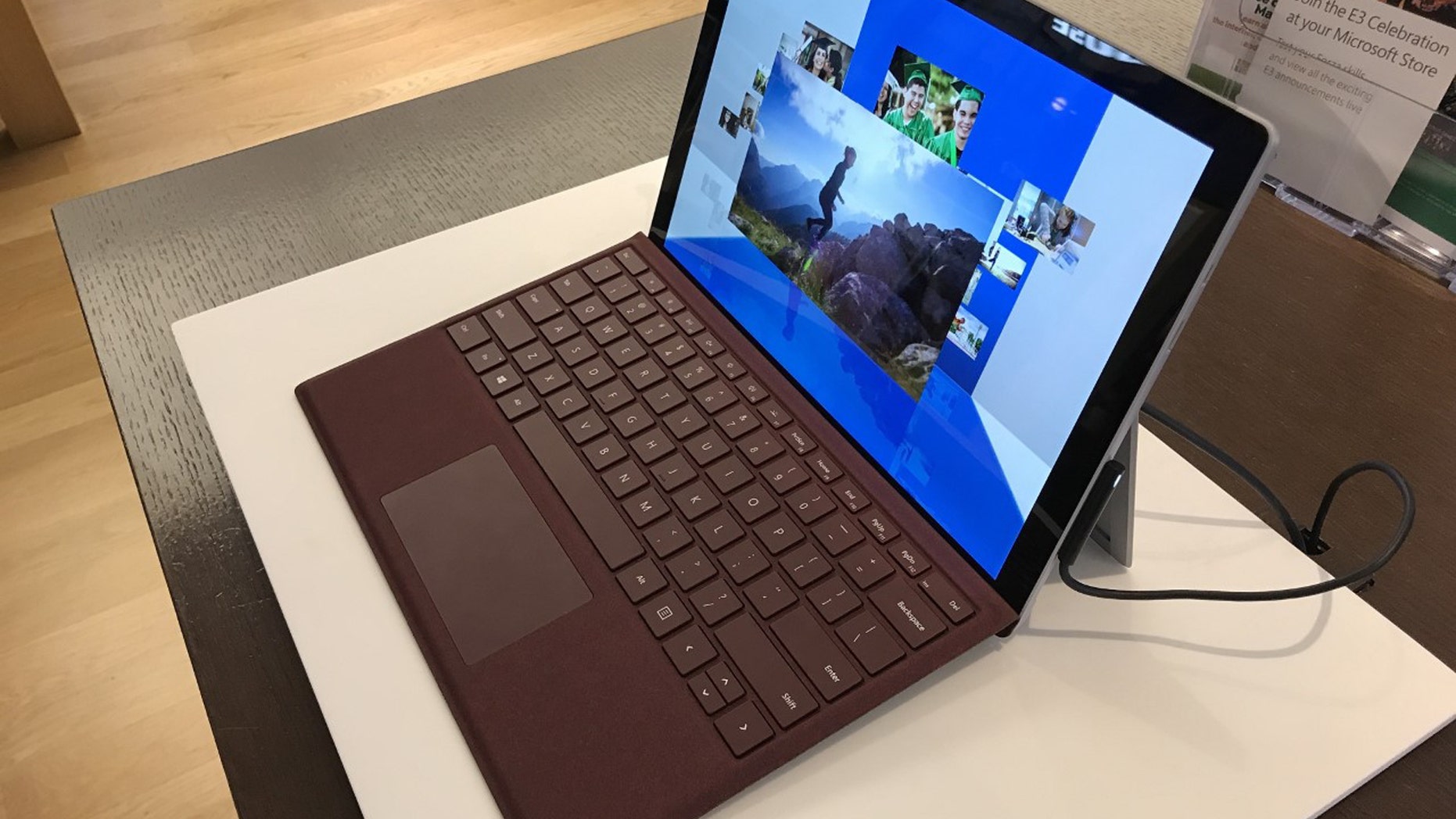 With the new Surface Pro, Microsoft made a good thing better.
At the top, let's point out that it isn't called the Surface Pro 5 -- it's just the "new Surface Pro." And while it looks like the Surface Pro 4, I spent some hands-on time with new device at a Microsoft Store in Los Angeles and it's very different.
The most salient change is inside. The new Surface Pro packs Intel's latest 7th Gen Core processors, besting the 6th Gen Core processors in the Surface Pro 4.
Intel's newest chips deliver better performance – particularly when handling video – and longer battery life. Generally, every new generation of Intel processors boast a host of improvements (albeit, often small improvements) that software developers don't always take advantage of right away. So some performance improvements are seen later rather than sooner.
MICROSOFT ANNOUNCES XBOX GAME PASS STARTING JUNE 1
Microsoft says the new Surface Pro delivers "50% more battery life and 50% more performance than Surface Pro 4," according to Microsoft's description of the features.

The new Surface Pro with Windows 10 Pro, 4GB of RAM, 128GB of storage, and an Intel Core m3 processor is $799. With 8GB of RAM, 256GB of storage, and a Core i5 chip, it's $1,299. The Surface Pro Signature Type Cover keyboard/cover is sold separately for $159.99.
Keyboard still key
The new Surface Pro Type Cover keyboard is still sold separately. I've always thought it peculiar that Microsoft doesn't sell the Surface Pro standard with the detachable keyboard because it's such an integral part of the device: pull out the Pro's kickstand and the keyboard turns the Surface tablet into a laptop (after all, the Surface Pro by itself is merely a tablet). And close the keyboard on top of the display and it serves as a protective shield.
The new Surface model comes with Alcantara keyboards in different colors: platinum, cobalt blue and burgundy. Alcantara is the material surrounding the keys and the trackpad. It's a soft, suede-like material typically found on luxury cars. It shows up on steering wheels and door panels, among other things.
MICROSOFT SCRAMBLES TO FIX WORST WINDOWS ISSUE IN 'RECENT MEMORY'
To me, the Alcantara keyboards look like carpeting, which is not a compliment. It's also susceptible to stains, though Microsoft says it's a "durable, stain-resistant material… designed to last and easily wipe clean."
But it's still an amazing keyboard to type on -- in fact, it's one of the best keyboards on any laptop today. It's easy on the fingers.
But wait, there's more
The new Surface Pro has a new hinge that allows you to place the Surface Pro in so-called "Studio Mode" -- almost perfectly flat. 

There are additional features, including a new stylus. Sold separately for $99, it has tilt support, 4,096 levels of pressure sensitivity and requires much less activation force than previous pens.
There is a built-in option for 4G/LTE, coming later this year, which marks a first for the Surface Pro. This is a great option to have and more Windows laptops should offer this.
Final thoughts
I owned the very first Surface Pro in 2013 and have owned a succession of Surface Pros after that. There's a reason it's a popular convertible device: it's incredibly easy to switch between tablet and laptop mode and Microsoft probably does a better job than anyone at striking a good balance between those two modes.

The rated 13.5 hours of battery life will please Surface fans and that alone might be a reason to upgrade (with the better performance, to boot). And you won't lose battery life by opening and closing the device (via the keyboard), a problem on previous iterations of the Surface Pro.
The new Surface Pro is available June 15.