McAfee founder, on run in murder case, arrested for entering Guatemala illegally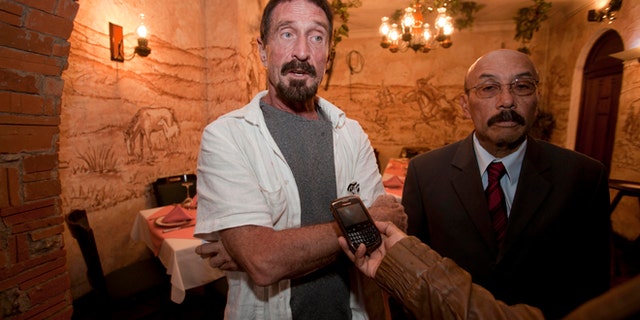 John McAfee, the tech executive behind the security software of the same name, was arrested Wednesday in Guatemala, where he had said he intended to seek asylum in the face of a potential murder case against him in Belize.
The arrest came a day after the software company founder surfaced in public for the first time in weeks. He told the Associated Press he sneaked into Guatemala because he fears persecution in Belize.
Police in Belize have called him a person of interest in the November slaying of a fellow American ex-pat but say there is no warrant for his arrest. Since there are no restrictions on his travels, it's unclear why he would need any special status in order to stay in Guatemala.
McAfee says he is being persecuted by the Belizean government, and he has sensitive information about official corruption in the country where he lived in a compound guarded by aggressive dogs and armed guards. He has hired a well-known Guatemalan lawyer to assist him.
"I need a safe place where I can actually speak out," McAfee said Tuesday. "Now that I'm here I can speak freely. I can speak openly."
Belizean police have denied they are persecuting McAfee or are motivated by corruption, saying they have simply been investigating a crime about which McAfee may have information.
Click to watch video from VICE on McAfee's arrest.
The Associated Press contributed to this report.