Lawyers Dump Paul Ceglia in Facebook Ownership Lawsuit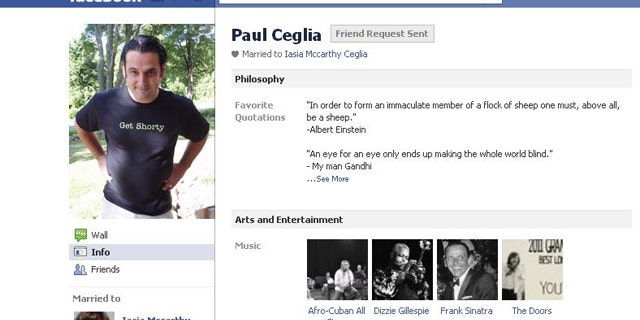 Lawyers representing the New York wood pellet salesman who claims he is entitled to a huge stake in Facebook have withdrawn from the case, according to a court filing.
Two law firms representing Paul Ceglia, including global law firm DLA Piper, submitted a filing in a Buffalo, New York federal court on Tuesday announcing that they would be replaced by another attorney.
The filing did not provide a reason for the switch.
DLA declined to comment citing attorney-client privilege. Dennis Vacco, a former New York State attorney general, whose firm also represented Ceglia, declined to comment.
Ceglia sued Facebook in July 2010, alleging that a contract he struck with Facebook co-founder Mark Zuckerberg in 2003 entitled him to half the company.
Facebook, the world's No. 1 Internet social network with more than 500 million users, has been valued at roughly $80 billion in stock transactions on private markets.
Facebook has said that Ceglia's contract is a forgery and has characterized Ceglia as an "inveterate scam artist."
Earlier this month, Ceglia's lawyers said he passed a polygraph test conducted to determine the veracity of the contract.
Ceglia's suit garnered widespread attention, not only because of its eye-popping claims, but because he was being represented by DLA, a 4,200-attorney international law firm that commonly represents corporations.
According to the filing, Ceglia will be represented by Jeffrey Lake. A representative for Lake, a San Diego attorney, said his firm "has been retained to represent Mr. Ceglia to bring this case to trial so that a jury may review the evidence."