Man in Ownership Lawsuit With Facebook Passes Polygraph Test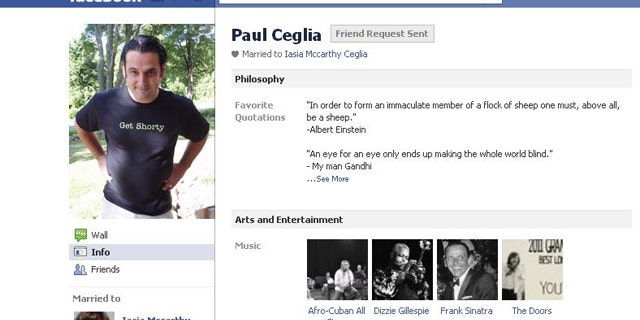 Paul Ceglia, who says a contract and emails entitle him to half of Facebook, has cleared a polygraph examination conducted to determine the veracity of the alleged contract with the online social network's founder, Mark Zuckerberg, his lawyers said in a court filing.
The polygraph tests are part of Ceglia's opposition to Facebook's request that he immediately turn over the alleged original contract and emails for inspection, without being asked to reciprocate.
Ceglia, a wood pellet salesman from Wellsville, New York, is trying to show he contracted in 2003 for 50 percent of Zuckerberg's interest in what became Facebook.
In his amended complaint filed on April 11, Ceglia had discussed the alleged Facebook contract and emails from 2003 and 2004. A polygraph examiner who administered the lie-detector test to Ceglia concluded that no deception was indicated, Cegila's lawyers said in a filing with the U.S. District Court in Buffalo, New York, on Friday.
Ceglia's lawyers contend that the lie-detector testing proves that the agreement and emails are authentic and asked the court to allow both sides to inspect the evidence, instead of granting Facebook's request that only it should be allowed to do so.
"I respectfully suggest that Mark Zuckerberg undergo the same polygraph examination I have in order to expose who is really telling the truth," Ceglia said in a sworn statement today to the federal court in Buffalo, New York.
But Orin Snyder, counsel for Mark Zuckerberg and Facebook says Ceglia's contract is fraudulent.
"Ceglia's lawsuit is a shell game, shifting and changing with every filing. This latest court filing admits that the bogus emails are, literally, a cut-and-paste job, just like the so-called contract is a fraud." Ceglia also has a history of deceptive behavior according to a statement made by Snyder in May.
"This man is a convicted felon with a history of fraud charges. His revised complaint is simply his latest scam."
Snyder also brought up questions regarding the accuracy of polygraph examinations.
"Everyone knows polygraph tests are easily manipulated, which is why courts routinely disregard them."
Robert Brownlie, Paul Ceglia's lawyer and an attorney withh DLA Piper, did not immediately respond to a FoxNews.com request for more information.
The case is Ceglia v. Zuckerberg et al, U.S. District Court, Western District of New York, No. 10-00569.

Reuters contributed to this report.