Kickstarter's newest darling is a futuristic laser for shaving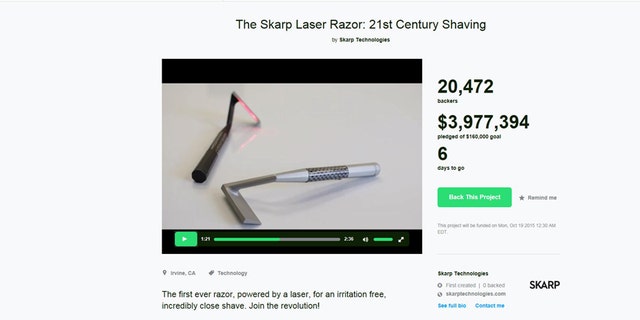 NEWYou can now listen to Fox News articles!
"After 5,000 years of using the same technology, it's time to make shaving easier, safer, and greener." Apparently, more than 20,000 supporters agree with this statement by a Skarp Laser Razor rep, because they've donated nearly $4 million as of this writing to a Kickstarter campaign for a shaving implement that promises to eliminate the pain, irritation, and mediocrity of regular shaving, Business Insider reports.
The Skarp razor—co-founded by Morgan Gustavsson, who 25 years ago helped invent a popular laser hair-removal technology still used today—is said to deliver a close shave with zero nicks, razor burn, or other irritations, without the expense of constantly replacing or mucking up the environment with billions of those unrecyclable cartridges.
Gustavsson has been mulling the idea for a "21st-century" razor since 2001, but there was one problem: His original laser invention could cut dark hairs, but not light, white, or gray ones.
That is, until he, partner Paul Binun, and their team discovered a chromophore—a particle that absorbs certain light wavelengths—in every human hair that could be cut by a laser.
They say the laser light doesn't emit UV, never penetrates the skin, and won't accidentally lop other parts of your body off (Binun and Gustavsson, who note public support has been "overwhelming," put out an update video explaining the razor's safety features).
The inventors want their razors to market by March 2016 for $159, Business Insider notes. So with this newfangled shaving technology, why do some of the founding team still sport beards? "We look more manly that way … right?" they write in the FAQs.
(You shouldn't shave every place on your body, apparently).
This article originally appeared on Newser: Kickstarter's New $4M Darling: The Laser Razor