iRipoff? First iPad Knock-Off Goes On Sale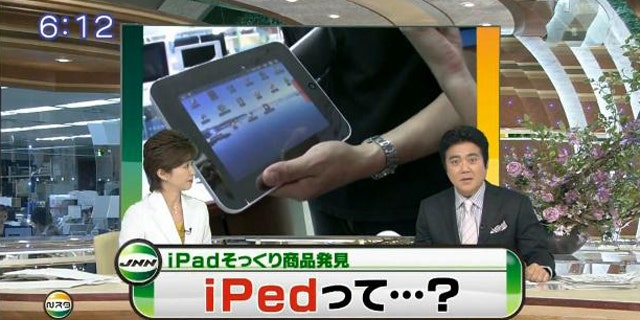 Knock-offs of Apple's iPad are starting to hit the Chinese market, including a model called -- no fooling -- the iPed.
According to a report on the Japan News Network (JNN), the cheaper alternative device is manufactured by a company called Orphan Electronics. The gadget was released over the weekend, and reportedly runs version 1.5 of Google's Android operating system rather than the Apple iPhone OS.
Apple's entry-level iPad model starts at $499 and can cost as much as $829; the iPed is priced at a more competitive level, reportedly selling for $150. And at that price, it houses a 16GB storage drive and includes 1GB of RAM. The entry-level iPad has a 16GB runs on just 256MB of RAM.
PCmag.com reports that the iPed sports a 600-MHz processor and has a screen resolution of only 800 by 480 pixels. For comparison's sake, the Apple iPad's 1-GHz Apple A4 processor powers a 1024-by-768-pixel screen. That said, the iPad's 9.7-inch display is a bit bigger than the iPed's 7-inch screen.
The only catch: Where to get the new device. According to Internet reports, the iPed is available only in China.
Yes, the iPed sounds like a cheap clone -- and the name smarts of an impending lawsuit. But Orphan Electronics is not alone.
The opening of Taiwan's Computex, the second-biggest tech trade show in the world, saw the unveiling of many other tablet-style PCs to compete with Apple's iPad.
Asustek, the giant computer manufacturer that introduced the world to the netbook, launched its own tablet computer on Monday. Asustek executives said their new device, called the Eee Pad, will start selling in the first quarter of next year. The touch-screen tablet personal computer will use Microsoft's Windows 7 operating system and Intel's Core processor.
"We want to provide a content service as well, because it is very important," Asustek Chairman Jonney Shih said at a news conference. "We aim to enhance [consumers'] Internet mobile experience."
The tablet will be put on sale in the first quarter of next year, with prices expected at between $399 and $449. Mr. Shih gave few details about the application store, but said Asustek will develop it jointly with Intel and that the store will also run on Windows.
Qualcomm is also said to be showing off a tablet, dubbed S7. That company's new devices are based on its Snapdragon chipset platform -- which also powers the new tablet PC from Dell Inc.
It seems it's only a matter of time until the market is flooded with tablet style computers. But even though Apple claims to have sold over 2 million iPads, the question remains: Will people really want all of these things?