How to get your sports fix online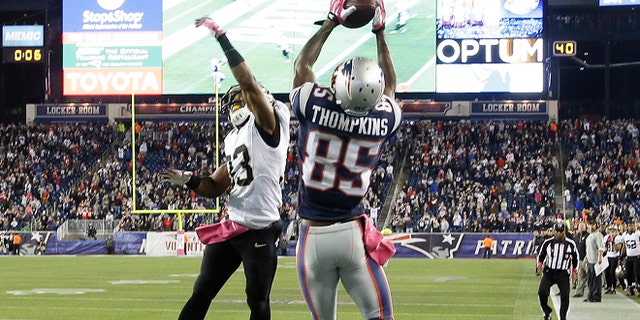 NEWYou can now listen to Fox News articles!
NEW YORK – Getting your sports fix can be tough if you don't root for the home team.
When my husband and I moved to New York from Detroit, we were faced with the challenge of how to watch our beloved Tigers, Red Wings and Lions, along with college football teams. Bars can get expensive -- and are impractical with a kid.
I looked to the Internet for help, but found my options for football to be limited. It's better with baseball and hockey.
PRO FOOTBALL
Most out-of-market NFL games are available only through DirecTV, which pays about $1 billion annually for the rights to show them. A basic NFL Sunday Ticket subscription costs $225 for the season. But if you want to watch games on your computer, smartphone or tablet, you'll need to pay an additional $75 for NFL Sunday Ticket Max.
If you don't have DirecTV service, you can still sign up for an online and mobile subscription, but it'll cost you $300 for the season, the same price DirecTV satellite TV subscribers pay for Sunday Ticket Max. It is pricey, but nice for cable TV subscribers to have that option.
After I installed the Sunday Ticket app on my iPad, I was able to easily flip back and forth between games. All of the day's scores are displayed on the left. If you touch one, it brings up live coverage of that game.
Unfortunately, users can only log in to one device at a time, which means I can't watch the Lions on my iPad while my husband catches the Saints game on his phone. There also isn't an option for a split screen, as there is with the TV version of Sunday Ticket.
Other features, such as standings, player stats and a list of game highlights, are displayed at the bottom of the screen. You can also switch to full-screen mode and use the entire tablet screen to watch the game.
Watching on the iPad is like watching on a small TV. The picture was sharp, and I could tell who had the ball. The video was sharp on my iPhone 4S, too, and I could follow the action. But it grew tiring after a while. Football isn't meant to be watched on a tiny screen.
The app works on iPhones, iPads and Android devices. You can watch games on a traditional computer, too, which could be nice if you're stuck at the office on a Sunday afternoon.
One alternative to DirecTV is the official NFL Mobile app. The basic version is free and includes news, scores, team information and alerts. For $5 a month, Verizon Wireless subscribers can upgrade to a premium version that includes live video of the Thursday, Sunday and Monday night games.
This can be great if you're running around town or don't get TV through a cable or satellite provider. Only the Sunday night game is broadcast over the air for free, on NBC.
As with the DirecTV app, video on NFL Mobile is remarkably clear. However, Verizon's license to stream the games is good only for smartphones, so watching on your tablet isn't an option, even though the app itself works there.
The NFL does sell an audio-only package. It's $25 for the season for one team's game, or $30 for the entire league. There are also packages ranging from $30 to $70 that give you access to video replays of NFL games, but no live audio or video coverage.
COLLEGE FOOTBALL
Watching college games online is cheaper and easier, especially if you already pay for cable or satellite TV. The free Watch ESPN app lets you watch anything being shown live on a handful of ESPN channels, as long as your TV provider participates.
But ESPN doesn't show every big game. My husband, a football-crazed Louisiana State University graduate, was out of luck recently when he wanted to watch LSU's thriller of a game against Georgia while at my sister's wedding reception. There was no TV to watch it on CBS, and he didn't know its free sports app streamed the game.
Some of my Michigan State games are shown on the Big Ten Network, which I pay my cable provider extra to receive. As part of the deal, I get access to the channel's BTN2Go app, which offers live streaming video. Michigan State also has its own free app that supplies streaming audio of football games and other sports.
In short, it's hit or miss. Fans of the big schools will have an easier time finding their games online than fans of smaller, unranked teams.
BASEBALL AND HOCKEY
Fortunately, it's a lot easier to watch other sports online.
For the past two baseball seasons, my husband and I have been happy to pay for MLB TV so we could watch the Detroit Tigers. A basic subscription costs $110 for the full season. That lets you watch pretty much any out-of-market major league game live in high definition on your home computer. You also get game highlights and stats.
For an additional $20 a season, you can watch games through your tablet or smartphone or on your TV through streaming devices such as Apple TV and Roku. Radio broadcasts are also available, which can be great if you're worried about battery life or out for a long walk.
Fans of out-of-town teams benefit most. Video broadcasts of local and nationally broadcast games are blocked, so if your team is playing nearby or on national TV, you're going to have to find a TV. Radio broadcasts aren't affected. The video blackouts include the playoffs that are going on right now. There's a separate package for minor league baseball.
For hockey, the NHL's GameCenter Live offers many of the same features as baseball. It currently sells for $150.
Although tuning it to watch my favorite teams may not be as easy as it was when I lived in Michigan, today's online offerings make it a lot easier and might even help me drag my super fan of a husband away from the TV.
Now if the Tigers can just win their series against the Red Sox and head back to the World Series, I'll be really happy.