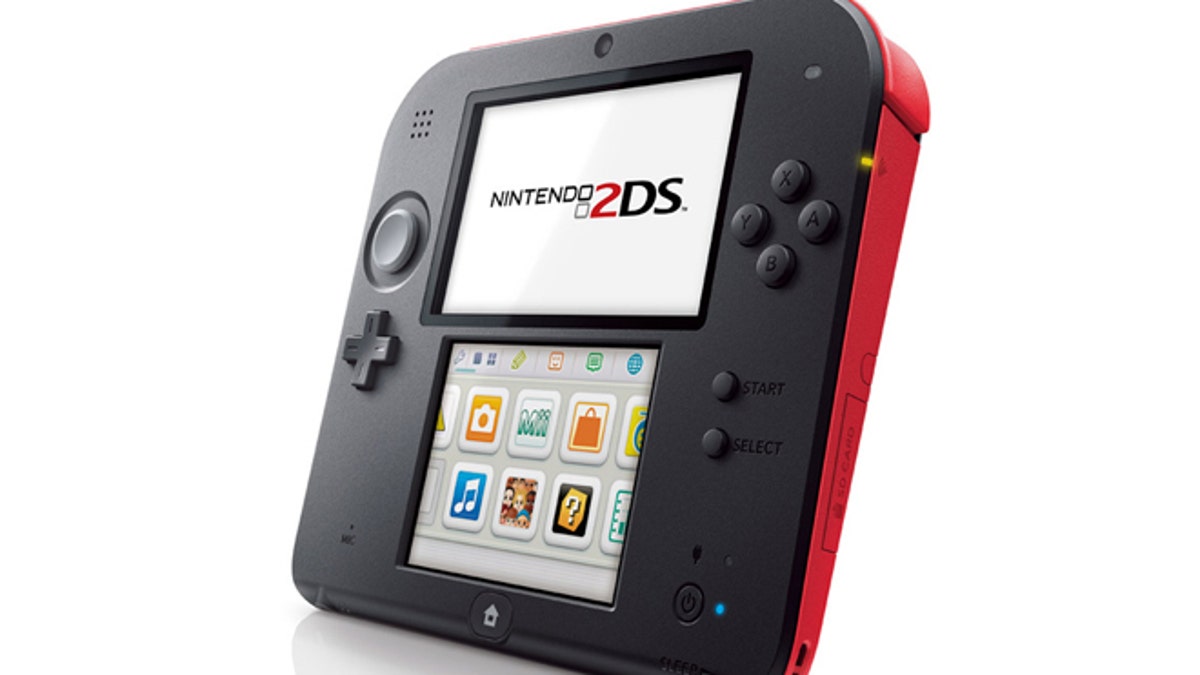 The Nintendo 2DS, the company's newest hand-held gaming device, is essentially a Nintendo 3DS without the 3D. It lets you play any of the games that you can play on the 3DS, but only in 2D. While this might seem like an odd choice, considering that the 3D feature was one of the big selling points of the original 3DS, the $130 price makes the 2DS Nintendo's least expensive current portable gaming device.The low price comes at a cost for some gamers, though.

According to Nintendo's warnings, 3D is not recommended for children under the age of 6. So the 2DS may appeal to parents of younger children, since they won't have to constantly check to make sure the feature is turned off, as with the 3DS.
Find more reviews, news, trends, and tips on the latest games and devices in our guide to video games, consoles, and tech toys.

The design of the 2DS is a departure from the hinged clamshell design of Nintendo's other current handhelds: The 2DS has a wedged shape, and both screens are on one flat surface. One plus of this design is that there are no hinges for kids to break. But it also means that the screens stay exposed unless you purchase a storage case for the 2DS.
The new design makes the 2DS look kind of clunky. The placement of the 2DS's buttons is also a little tricky to adjust to, as they're closer to the top screen than they are on other devices. After about an hour or so of gameplay, though, I didn't really notice the difference and didn't find the controls to be uncomfortable.
The 2DS's new shoulder buttons are an improvement over those on the other Nintendo handhelds: They're bigger and contour to the curve of your fingers. No significant changes were made to the screens—they're the same size and resolution as those on the 3DS.
Bottom line
My overall recommendation for those shopping for a Nintendo handheld gaming device is to go with the 3DS XL, which sells for $200. The larger screen makes a noticeably positive difference in gaming on the go. But if you've been holding out for a cheaper option or have younger children that you don't want viewing content in 3D, than the 2DS is the way to go.
—Matt Ferretti
Copyright © 2005-2013 Consumers Union of U.S., Inc. No reproduction, in whole or in part, without written permission. Consumer Reports has no relationship with any advertisers on this site.