Harvard Dropout Mark Zuckerberg's Triumphant Return to Campus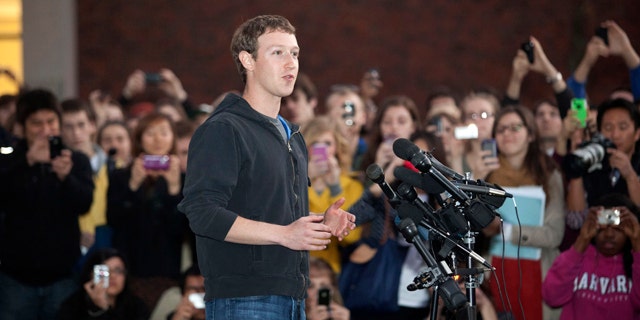 NEWYou can now listen to Fox News articles!
CAMBRIDGE, MASS. – Facebook creator Mark Zuckerberg left Harvard University as a dropout with a novel idea. He returned Monday with a triumphant message: He's hiring.
The 27-year-old CEO received a rock-star welcome during his first official visit since he left for California's Silicon Valley in 2004. He made his recruitment pitch to 250 students at Harvard after a similar meeting at the Massachusetts Institute of Technology.
"We're just getting started," he told reporters and a few hundred students who gathered at the Harvard campus to catch a glimpse of the Internet pioneer. "The next five or 10 years are going to be about all the different products and industries that can be rethought."
So many students turned out to see the sweatshirted billionaire outside a university library that campus officials had to set up temporary barriers to separate him from his audience.
Aaron Perez, an 18-year-old freshman from Poughkeepsie, N.Y., said Zuckerberg's creation was one of the reasons he chose to study computer science. He said he's encouraged to hear that companies are hiring computer programmers in today's struggling economy.
"It's an empowering story, especially these days," said Perez, who risked being tardy to rowing practice to see Zuckerberg. "It makes it seem like I've got a chance."
Harvard computing officials were working on their own university-wide online directory when Zuckerberg created Facebook as a campus-only social network. The then-sophomore told the campus newspaper, The Harvard Crimson, it was silly that the university needed years to create the site.
"I can do it better than they can, and I can do it in a week," he said.
An earlier Zuckerberg creation, Facemash, almost led to his expulsion after he hacked university computers for student photos.
But there were no hurt feelings Monday, as university officials and faculty welcomed Zuckerberg back to campus for the official visit. Zuckerberg has returned to Harvard before on informal recruiting trips.
"There are relatively few tech rock stars whose names are known by people all over the world," said Harvard computer science professor David Malan, who cited Microsoft's Bill Gates and Apple's Steve Jobs as two other examples. "He really is in that category."
Zuckerberg said his company has plans to expand and needs talented workers to do it.
"There's a lot of really smart people here and a lot of them are making decisions about where they're going to work," he said of his decision to recruit in Cambridge.
The company's base of operations moved to Palo Alto, Calif., in June 2004, just months after Facebook began to expand outside of Harvard. By the end of the year, the site would have nearly 1 million users. Facebook says it now has more than 800 million active users around the world and 3,000 employees.
It could someday open an office in the Boston area, Zuckerberg said.
The area's status as a center for technological innovation has improved in the last several years, local entrepreneur Dharmesh Shah said. Shah is chief technology officer and co-founder of HubSpot, a marketing software company, and also runs a blog devoted to technology startups.
Shah created HubSpot while an MIT student and said he considered basing his new company in San Francisco but wanted to stay close to MIT and the area's growing talent pool.
"There's a vibrant ecosystem here," he said. "There's always been this stereotype that startups on the East Coast won't take as much risk as the startups you see on the West Coast, and that held us back. But it's changing. I've never seen it as vibrant as it is right now."
News that Zuckerberg was on campus spread Monday by word of mouth, Twitter and, of course, Facebook. Students held their smartphones aloft to snap photos as he walked through the campus.
Harvard student Madeline Halimi of Brooklyn, N.Y., said Zuckerberg's story is encouraging, but also a little daunting. The freshman student is still deciding her field of concentration.
"What's really weird is wondering whether the person next to you will be the next person to invent something that changes the world," Halimi said.